Covelli vendor now nixes buyout option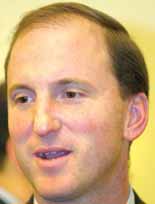 Photo
Youngstown Deputy Director of Finance Kyle L. Miasek
YOUNGSTOWN
Centerplate, the food-and-beverage vendor at the Covelli Centre, is no longer willing to take a buyout to end its contract with the city because of concerns that Youngstown could sign a deal with a competitor.
JAC Management, the firm that manages the day-to-day operations of the center, proposed last month taking over the food-and-beverage contract — a move supported by the city administration.
But city council members said a decision this important shouldn't be rushed. They were hesitant to give JAC the contract because the company has never handled food-and-beverage operations at a facility the size of Covelli, and they also wanted to give other businesses a chance to submit proposals.
In an email to Eric Ryan, the head of JAC and the center's executive director, Gregory Fender, a Centerplate senior vice president, wrote: "We have no desire to see one of our competitors take over this contract nor do we intend to further negotiate the buyout of our investment. Based upon your decision to change the previously agreed upon terms, Centerplate is not prepared to enter into the draft statement agreement which shall now be deemed null and void."
City Deputy Finance Director Kyle Miasek told council's finance committee Monday that based on "the tone of the discussions between the city administration and council, as was conveyed by The Vindicator, [Centerplate] felt that based on their view, not our view, that they felt that this was not something that they wanted to continue" to negotiate.
City officials have sought for years to get out of the deal that gives Centerplate exclusivity over the sale of food and beverages at the Youngstown-owned center. The 10-year contract expires September 2015.
Centerplate officials recently agreed to accept a buyout of the rest of its contract — about $460,000 — if JAC took over the food-and-beverage operations.
"We, as a policy, make it a point to never walk away from our contracts and we were only willing to do so here because we were led to believe you were going to run the operation in-house," Fender wrote to Ryan.
The company made that decision "based upon the low level of attendance and the number of events we have had at the Covelli Centre and the challenge we have all had over the last five years making our projected return on our investment" Fender wrote.
Centerplate "didn't let us consider it," said Councilman DeMaine Kitchen, D-2nd. "I don't know where we went wrong."
The center received $194,563 from the sale of food and beverages last year.
City administrators and Ryan had projected an annual increase in revenues by $100,000 if JAC took over because it would give a higher percentage of its profits to the center and sell food and beverages at all events at the facility, something Centerplate doesn't do.
There is a "very slim possibility" Centerplate would reconsider leaving if JAC is put in charge of food and beverages at the center, Miasek said.
"I don't know if this can be moved to fruition based on this letter," he said. "We can reach out to them if council agrees."
None of the four council members at Monday's meeting gave the go-ahead to Miasek.