YSU student writers launch online magazine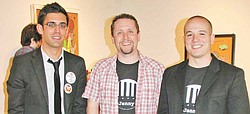 Photo
Chris Lettera, SLAA president, left, Chris Barzak, faculty adviser, and Andrew Whitmer, SLAA vice-president.
By GUY D'ASTOLFO
YOUNGSTOWN
Feedback is what a budding writer wants most, and it's also the literary lifeblood of Jenny online magazine.
Jenny (jennymag.org) is the poetry and writing platform of the Student Literary Arts Association at Youngstown State University. It was launched in the fall and released its second edition last month.
Chris Lettera is a graduate English student at YSU and the president of SLAA. He explained how the project got started.
"There were six to eight of us who had taken [YSU English professor] Chris Barzak's writing workshops," he said. "We wanted to replicate the feeling we got at them, the immediate feedback."
Barzak is also a novelist who penned "One for Sorrow" and "The Love We Share Without Knowing."
Last summer, Lettera, Andrew Whitmer and a few others starting kicking around the idea for a literary group and magazine. The SLAA was formed and Jenny — which takes its name from the defunct Jeannette blast furnace that once anchored the Brier Hill steelworks in Youngstown — was born.
Barzak is the faculty advisor of SLAA; Amber Pence is treasurer; Sarah Burnett, secretary; and David Drogowski, web designer.
Lettera and Whitmer know that they were fortunate to have a published writer like Barzak to guide them. "His experience has been invaluable," said Whitmer.
The website got respect from the start, and has so far logged about 3,000 unique hits from all over the world, including Japan, Germany, South Korea, Russia, France, England and Italy. "People who are looking for good writing without going to a bookstore find it," said Whitmer.
In addition to poetry and prose, The Spring 2011 issue also features an interview with author and YSU English professor Rebecca Barnhouse, as well as the work of photographer Hannah Woodroofe.
Jenny will maintain its twice-a-year publishing schedule and is already getting submissions for its next issue.
"We aimed high and I think we achieved high," said Lettera, who noted that SLAA has a formal administrative structure that will ensure its continuation long after the founders are gone.
With Jenny, the SLAA has stayed true to its goal of providing feedback for all submissions.
"We send out as many personal responses to submissions as possible," said Whitmer, who is the group's vice president. "Most other literary magazine just send a brief reply."
The fall issue received 110 submissions and the spring issue got 130. Just 17 were selected for publication in each issue.
Submissions are separated for fiction, nonfiction and poetry, with a team responsible for each category. Readings are held, and the submissions are then ranked, with the best brought before the main board.
The vast majority of writings are rejected. "There are hurt feelings," said Barzak, "but we want to run it as a professional business."
The SLAA gets no funding from YSU, but nor has it asked for any, said Lettera.
Youngstown State has long had a print literary magazine, The Penguin Review.
"Most universities have literary magazines, but they don't circulate off-campus," said Barzak. "Literary magazines are moving online. It's cheaper and there is more space and more people can read it."
There is some crossover with writers submitting to both Jenny and The Penguin Review. Barzak calls the relationship a friendly competition.
But while Penguin Review is only for YSU students, Jenny draws writers from everywhere. "About 50 percent live between Cleveland and Pittsburgh, and the rest live elsewhere in the world," said Barzak.
While Jenny makes no thematic writing restrictions, it maintains a certain link to Youngstown's history as a manufacturing powerhouse, as its mission statement explains:
"While the absence of our blast furnaces has been felt in terrible ways throughout our region, our fire has not gone out. In the aftermath of de-industrialization, we are not a people without industry. Youngstown is not done creating, not done making. We are each of us, every day, telling stories."