---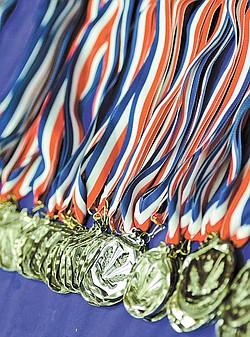 The Vindicator

Photo
Hundreds of medals were given to 550 academic achievers in the Youngstown City Schools Beeghly Center on Sunday.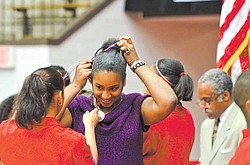 The Vindicator

Photo
Wilson Middle School Student Syesha Shaw, 13, hangs a bronze medal around her neck at the Youngstown Community Fourth Annual Academic Achievement Olympiad Sunday at YSU's Beeghly Center.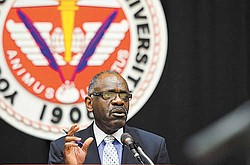 The Vindicator

Photo
Youngstown Schools Superintendent Dr. Connie Hathorn speaks to students before academic achievers in the district were awarded medals at the Youngstown Community Fourth Annual Academic Achievement Olympiad Sunday. Hathorn said failure can no longer be an option for students in the district.
YOUNGSTOWN
Shyanne Green proudly wore a gold medal around her neck as she sat with other Wilson Middle School students wearing silver and bronze medals at the Beeghly Center at Youngstown State University.
Shyanne and her fellow classmates did not receive the medals for athletic ability but instead were honored for achievement in the classroom. The students were honored Sunday at the Youngstown Community Fourth Annual Academic Achievement Olympiad. The ceremony is a combined effort between Youngstown City Schools and the FAMILY Empowerment Student Achievement Institute.
Gold medals were handed out to students in the district maintaining an "A" average, while those maintaining a "B" average received silver medals, and bronze medals were given to those with a "C" average. More than 550 students in the district received one of the medals.
Shyanne was the only student from Wilson Middle School to be honored with the gold medal. She said she has always maintained an A/B average in school but buckled down this year and worked to earn perfect marks.
"I really think this is a good thing. I just try to study hard and do my best," she said.
Syesha Shaw, a Wilson student who received the bronze award, said maintaining a good grade-point average requires sacrifice. The 13-year-old middle school student said she has cut back on texting, Facebook and Internet play to devote more time to her studies.
Carole McWilson, Cofounder of the FAMILY Empowerment Student Achievement Institute and event organizer, said the idea is to encourage students like Shaw to continue making the necessary sacrifices to achieve academic excellence. She said the encouragement must come from the entire community.
"Our focus is to look to the positive. We are about developing a successful home, school, and community partnership. The district, parents or school cannot do it alone. It has to be a collective effort among all those groups," said McWilson.
Mary Lou DiPillo, dean of education at YSU, said she is happy to see so many young people who may one day attend YSU honored for academic achievement. She said she is equally happy to see two teachers honored by their students as most inspiring teachers.
"There is no greater profession than teaching. They are being honored with an award far greater than any Academy (Award) or Golden Globe," she said.
Students for Cynthia Bruno, Chaney High School, and Henry Brew, Youngstown Early College, submitted letters asking that the two educators be honored as most inspiring teachers. They were given plagues in recognition of their work.
Bruno, who will be retiring this year, said she is overwhelmed that one of her students, 17-year-old Kaitlyn Cook, suggested she be honored. The Chaney High School senior said Bruno is an inspiration and the most qualified teacher she has ever had.
Bruno told her student she could almost cry after receiving the award.
"This makes me a little uncomfortable because I try to make it about the students and not about me."
"At the end of my career this is really special to me."
Four schools were honored at the event. Youngstown Early College received an Excellent School Award. Rayen Early Middle College, Kirkmere Elementary School and Paul C. Bunn Elementary each received Continuous Improvement awards.