World War History & Art Museum in Alliance to open Saturday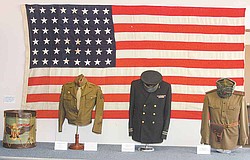 The Vindicator

Photo
These military uniforms are part of a display at the World War History & Art Museum on East State Street in Alliance. The museum officially opens Saturday.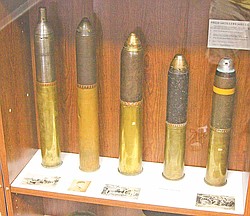 Special to the Vindicator

Photo
Vintage World War I artillery shells are displayed at the World War History museum in Alliance
WAR MUSEUM
Fast facts
Local officials and the media were among those invited to a preview of the World War History & Art Museum in Alliance, set to open to the public with a ribbon-cutting ceremony at 10 a.m. next Saturday. General information and exhibits:
Location: 1300 E. State St. (U.S. Route 62), Alliance.
Purpose: To promote and preserve the history and art of World Wars I and II.
Space: 9,100 square feet, with 7,500 square feet of exhibit room.
EXHIBITS
Rumors of War: A series of articles from the Cleveland Plain Dealer, New York Herald and other newspapers that chronicle the eight days between July 28 and Aug. 4, 1914, when many European nations declared war in World War I.
Brushes with War: A private collection of about 300 art pieces by WWI sailors and soldiers.
GI Junk: Many soldiers in both wars used artillery casings, bark, wood from blown-up structures and other material to create handmade souvenirs.
Hitler's Steps: Original newspaper photographs trace Adolph Hitler's aggression from his 1933 rise to power to the 1941 invasion of Russia.
Tank Tracks: Exhibit demonstrates how the Germans transformed old tanks into weapons designed for fast-paced warfare, and how the Allies countered and overcame these machines.
Jill of all Trades: A look at how many women drove ambulances and treated the wounded, operated radios, entertained the troops, piloted aircraft and performed other duties.
Air Strokes: Artwork from air and ground crews as well as pilots showing air campaigns in all theaters of WWII.
Source: WWHAM
By Sean Barron
ALLIANCE
If you're interested in the evolution of toy soldiers, and seeing the works of a gunner who signed his artwork upside-down, the new World War History & Art Museum is for you.
"The paintings tend to be simple, and they tend to be subdued," Joel Parkinson said while guiding officials and reporters on a one-hour tour Saturday of the museum, 1300 E. State St., here.
Parkinson, director and curator, was referring to a collection of 289 original paintings and drawings by World War I soldiers representing the United States, Germany, Italy, France and several other countries.
The artwork highlighted one of nine exhibits at the museum, which is to open to the public at 10 a.m. Saturday.
Its main purpose is to preserve and promote the history and art of World Wars I and II, Parkinson said.
Many of the nearly 300 pieces are small, stark and grim, largely because they were done by soldiers in trenches, he explained.
An example is a 1915 pencil rendering that depicts the boredom many soldiers experienced in the dark, muddy excavations. Another shows one soldier peering around a parapet for Germans while another sits in boredom.
Parkinson discussed a piece by gunner F.J. Mears, who signed his name upside-down to protest the war and the fact that "the world's upside-down," Parkinson said, adding that some soldiers drew and painted to pass time.
Shortly after seeing the early art, participants gathered around a large display case containing obsolete WWI relics such as swords, barbed wire, grenades and field-artillery shells.
Also conducting the tour was Parkinson's daughter, Becky, a history major at Geneva College in Beaver Falls, Pa.
She provided a brief history about the production and popularity of toy soldiers from about 1893 to 1971, as well as how they influenced and were influenced by culture.
Play soldiers were popular before WWI, but after the war, many toy companies cut their production and switched to making farm animals, for example, because many people wanted to put the war behind them, Becky Parkinson said.
She added that toy soldiers sold for about 5 cents each during the Great Depression.
Parkinson also showed a series of newspaper photographs covering Adolph Hitler's reign in Germany during the 1930s and 1940s. Another exhibit showed how German tanks became more sophisticated between the mid-1930s and the end of World War II, as well as what the Allies did to counteract the tanks.
Another attraction includes numerous front-page articles from newspapers such as the Cleveland Plain Dealer between late July and early August 1914 that capture the outbreak of World War I.
Other exhibits show a coverlet with embroidered panels by soldiers recovering from their wounds, including amputees; photographs of women helping the war effort by test-flying airplanes, tending to injured soldiers and performing other noncombat roles; and pencil drawings of planes.
Museum hours will be 10 a.m. to 5 p.m. Wednesdays, Fridays and Saturdays; 10 a.m. to 8 p.m. Tuesdays and Thursdays; and closed Sundays and Mondays, except Memorial Day.
Cost is $10 for adults and $5 for students. Children 6 and under are admitted free.