Special people, special event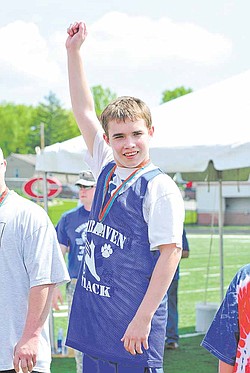 Special to the Vindicator

Photo
Colin Sekola from Trumbull County Fairhaven celebrates after being awarded the first-place medal in the 100-meter dash Saturday morning at Girard's Arrowhead Stadium. Teams from Ashtabula, Columbiana, Geauga, Mahoning, Portage and Trumbull counties participated.
Athletes enjoy thrill of competition at Trumbull County Olympics
By ELISE McKEOWN SKOLNICK
GIRARD
With the announcement "Let the games begin!" and the release of blue and white helium-filled balloons, the Trumbull County Special Olympics started.
The 250 mentally and/or physically challenged participants began the day with the March of Athletes, a lap around the Girard school district's Arrowhead Stadium track. They were led by members of the Ohio Army National Guard and the Girard High School band.
"The word's gotten out that this is a great program, a great event," said Carol Kirch, coordinator for Fairhaven Special Olympics. "So we have twice as many teams from last year, which is great."
Saturday's event, the second annual, included track and field events such as relays, softball throws, shot put, long jump and more.
Teams from Ashtabula, Columbiana, Geauga, Mahoning, Portage and Trumbull counties participated.
Fairhaven student James Nicholas led the Special Olympic oath — "Let me win, but, if I cannot win, let me be brave in the attempt."
He was nervous, but it went well, he said.
"I'm happy I did it," he added.
Nicholas participated in the 400-meter run and the softball throw.
He needs to practice a lot, he said, but it's worth it. Running is his favorite event.
His teammates, Nathan Robertson and Donny Titchnell, agreed the games are fun.
Titchnell participates in the softball-throw event, among others.
"I love it," he said.
Robertson enjoys running.
"I'm fast," he said.
"They're having a blast," Kirch said. "The running and track is just part of it. They're all sitting up [in the stands] with their friends and their families, and they're having a good time. It's more of the social thing. And they just love hanging out with these high school kids. And then the high school kids love being with our kids."
Many of the event volunteers were Girard High School students.
"It feels nice to help them," said Katie O'Brien, a Girard senior. "To see them happy, it's worth it because it's so important to them. They get excited about it."
Freshman Gabby Coggins, also from Girard, said last year's event was rainy from start to finish, but the participants still smiled.
"They were happy to be here," she said. "And it motivated some of us to keep helping and keep going through the day."
It also motivated her to help again this year.
"It's the right thing to do," she said. "It shows our respect towards them for wanting to be an athlete."
The event was presented by Fairhaven School, Girard-Liberty Rotary Club and the Girard school district. Fairhaven School is operated by the Trumbull County Board of Developmental Disabilities.