Home on the Range: Raiders win Div. III title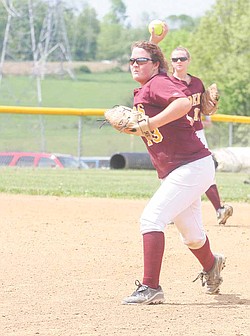 Special to the Vindicator

Photo
Madison Yanek is one of the South Range High softball team's pitchers. The Raiders defeated Ursuline on Saturday to win their second consecutive Division III district softball title. Olmsted Bulldogs at the Field of Dreams in Boardman.
So. Range 10
Ursuline 1
Next: South Range vs. Champion at Massillon Community Park, Thursday, 5 p.m.
By Jon Moffett
LISBON
With her hair pulled back in a tight ponytail — with the tip dyed purple — and her sunglasses on, Carly DeRose looked like a rock star on the field.
And it was appropriate because she and her South Range High teammates were the stars of the day. The Raiders defeated Ursuline 10-1 in the Division III district championship game to earn the first back-to-back softball titles in school history.
And history means a lot to the Raiders.
DeRose explained the purple hair, which is as much function as it is fashion.
"We did it last year, so I guess it's tradition," she said. "We're all really superstitious, so, yeah. We have to do it."
Whether it was the hair or just their ability, the Raiders (25-3) had luck go their way at Dickey Field on Saturday. What looked to be a nail-biter for the first half of the game quickly turned into a will-it-be-run-ruled contest as it came to a close.
The Irish (17-9) drew first blood, but the lead didn't last for long. Ursuline scored in the top of the third inning but didn't score again.
The Irish had a chance for a run in the first, but were denied when leadoff hitter Briana Curd was thrown out at home. They had six hits off DeRose, but couldn't string enough together.
The Raiders, though, could. And they did.
The rally start off quietly. The home team plated a run when DeRose rounded third on a throwing error by the Irish defense — which committed a total of seven blunders on the day.
South Range tacked on another run in the bottom of the fourth when senior Emily Seman was brought in by another Ursuline miscue.
Then things got a little bit louder. The Raiders scored two more in the fifth as Lexi Naples and Seman scored.
Then things got deafening.
The Raiders used the bottom of the sixth innings as batting practice, knocking in six runs on five hits and a pair of Irish errors.
Seman credited DeRose and the defense for keeping Ursuline off the scoreboard.
"It feels great and it relaxes us to know that we can count on our pitcher, which is a big part of our team," said Seman, who scored three times and had three doubles in the contest. "Carly is a big part of our team and she did great today. We're all proud of her."
DeRose (10-1) was proud of her defense. And the offense, which helped her take a few more risks with a big lead.
"It definitely makes my job easier as a pitcher, because I know even if I slip up a couple of times that it's OK because we're ahead," DeRose said. "And my infield and outfield have been backing me up the whole time to back me up, so I don't really worry about it all that much."
During the presentation of the championship trophy, the team's four seniors — Madison Yanek, Gab Naples, Tab Stanton and Seman — each took turns jumping on head coach Don Feren and giving their coach a giant bear hug.
Feren, who was presented with the championship trophy by his father, who is the athletic director at Lisbon, said the entire experience was special.
"These seniors are awesome. They are just unbelievable," Feren said. "They've sacrificed a lot to get where were are now, and it is because of them that we are where we are now."
To show their appreciation for Feren, the team doused him with a Gatorade shower shortly after the awards were distributed. Not to be outdone, Feren snuck a large cooler behind the team as it took its celebratory photo and returned the favor. The soaked players tackled him at third base.
"If this team is not having fun, there is something wrong, because they really have a good time," he said. "But when it's time to go, they can get serious."