HAPPY 100TH BIRTHDAY John C. Yavorsky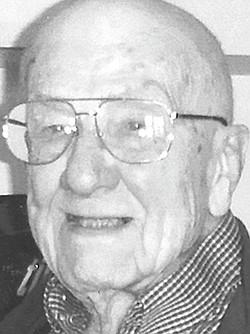 Photo
Born: A son of John and Katherine Yavorsky at home in Youngstown May 28, 1911. He had five siblings; four are deceased.
Schooling: Attended St. Matthias and Adams grade schools and Central Junior High School in downtown Youngstown. He graduated from South High School in 1927 at age 16.
Employment: Immediately after graduation he started working at Howensting's Drugstore. In 1930 he began working at Youngstown Republic Steel, where he worked until retiring in 1970.
Married: The former Anne Marie Muransky on Thanksgiving Day 1936. They were married 69 years and had two sons, John Dennis Yavorsky, a retired dentist, who lives in Fort Myers, Fla., and Donald J. Yavorsky of Petersburg, Va. She is deceased.
Church: He is one of the founding members of St. Luke Catholic Church and attended the church until moving into assisted living three years ago.
Celebration: With family and friends at the Victoria House of Austintown, where he is a resident. Among the guests will be his sons and daughters-in-law, Nancy A. McDowell Yavorsky and Marianne Dolan Yavorsky; six grandchildren and five great-grandchildren; and his 90-year-old sister, Mildred Repko of Youngstown.