'Life is good' for some 1,200 YSU graduates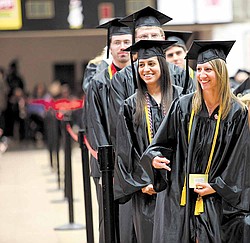 The Vindicator

Photo
Janna Wheeler, right, of Carrollton and Deanna Zamudio of Berlin Center pose for a photo before accepting their bachelor's degrees during YSU commencement ceremonies Saturday morning in Beeghly Center. Both majored in studio art.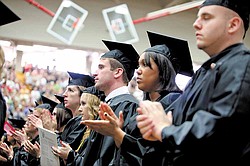 Special to the Vindicator

Photo
Graduates applaud as Jamail Johnson's family accepts his posthumous degree during YSU commencement ceremonies Saturday morning in Beeghly Center. Johnson, a YSU senior, was killed Feb. 6 in a shooting near the campus.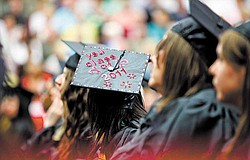 Special to the Vindicator

Photo
A graduate shows off her decorated mortarboard during YSU commencement ceremonies Saturday morning in Beeghly Center.
COMMENCEMENT
There were 1,180 total graduates: 21 doctoral, 200 master's degrees, 825 bachelor's degrees and 134 associate degrees.
Baccalaureate degree honors: summa cum laude, 114; magna cum laude, 83; cum laude, 90.
YSU Pin Award recipients
(recognizing well-rounded graduating seniors):
Sarah Brothers, Bryan
Chaidez, Sarah Deiger, Krystle Kimes, Nicholas Meditz and Samantha Tortora.
Red, White and Blue
Military Cord recipients: Nick Cayton, Daniel Lumpp,
Christopher Smith, Army; John Dunfee, Brandon Gibbs, Brian Schaal, Marines; Jason Parillo, Marlana Robertshaw,
Jason Samora, Juren Raske, Navy; Deanna Zamudio,
Andrew Whitmer, National Guard. Cayton and Zamudio are currently serving.
By Bob Jackson
YOUNGSTOWN
One year ago, Thomas Phibbs was lying in a hospital bed, recovering from a kidney transplant — the second one he'd undergone in six years. The donor was his fiancee.
Ten days ago, he was celebrating the birth of his daughter, Annika Katherine.
Saturday, he received his long-awaited degree from Youngstown State University.
"Life is good, brother," the 31-year-old Hubbard man said. "If I had to have a quote to sum up today, it would be that life is good."
Phibbs, who received a bachelor's degree in psychology with a minor in marketing, was among nearly 1,200 graduates at YSU commencement ceremonies Saturday in Beeghly Center. One ceremony was in the morning for undergraduate students, another was in the afternoon for those receiving graduate degrees.
U.S. District Court Judge Peter C. Economus was the keynote speaker and received an honorary doctor of laws degree from the university. Judge Economus, who assumed senior status on the bench in July 2009 and serves as a visiting district judge in the U.S. District Court's Southern District of Ohio, graduated from YSU in 1967.
Phibbs said he received his first kidney transplant in 2004, but needed another in 2010. He said those health issues slowed his progress toward his degree, but he was thrilled to be at the end of his educational trail. Now that he's finished with school, Phibbs said he hopes to land a job in executive sales with Turning Technologies in downtown Youngstown.
Like Phibbs, Craig Johnson of Cortland took a roundabout route to Saturday's graduation. He enlisted in the U.S. Marine Corps after graduation from high school, and began taking college classes after his discharge. But after the Sept. 11, 2001, terrorist attacks, he was recalled into the service for another stint.
"It's just been a very long road to get here," said Johnson, 33, who earned a nursing degree. He hopes to find work in a veterans hospital in the area so he can continue working with those in the military.
Johnson said he was grateful that his 8-year-old son, Tyler, was in the audience to watch his graduation, as well as his parents, Karen and Gilbert Johnson. He said his mother was gravely ill around Christmastime, but she recovered.
"It's so great to have her here with me today," he said.
Ruth Wilson, 24, of North Jackson barely could contain her excitement at preparing to graduate after spending 51/2 years in school. She received a bachelor's degree in education and is now beginning the search for a job.
The controversy over Senate Bill 5 has given her cause for concern but hasn't dampened her enthusiasm for her chosen field.
"It's bittersweet because it's going to push some teachers out the door who've been teetering on whether or not to retire, and that in turn opens some doors for some of us new people to get in. But at the same time, they're trying to take so many things away from teachers," she said. "I'm very worried, but I absolutely 100 percent love it, and I wouldn't change a thing."
Paul Peace Jr. of Youngstown said he intends to take his nursing degree and head toward Cleveland or Columbus for work.
"I don't want to leave Youngstown, but there are more job opportunities in those other cities," the 22-year-old said.
After he finds a job and spends at least two years working, he intends to go back to school and get a degree to be a nurse anesthetist.
During his remarks in the undergraduate ceremony, Judge Economus encouraged the graduates to savor their accomplishments, but also to work hard toward achieving their life goals.
"Achievements don't just fall into your lap out of the sky," the judge said. "You must make them happen." He said hard work and education are the keys to overcoming difficulties and obstacles on the path to success.
Judge Economus, who was a Mahoning County Common Pleas Court judge before assuming the federal court bench, told of his father, who came to the U.S. from Greece as a 16-year-old boy, unable to speak English and with barely any money in his pocket. After settling in Youngstown, he put himself through college and law school and became a successful attorney.
Saturday also was the first time that YSU honored graduating student veterans by bestowing red, white and blue cords on them, which they wore during the ceremony. The cords, worn by 12, were in recognition of their service to the nation.
"This is yet another way that YSU, as a veteran-friendly university, can honor and thank those who are serving our country," said YSU President Cynthia E. Anderson.
G.I. Jobs magazine, a publication designed for military members transitioning back into civilian life, has named YSU a Military Friendly School for two consecutive years.