Greenwood partners with Austintown baseball

Photo
League director Rich Gunter (to left of check) gathered with the coaches and boys of the Greenwood Chevrolet 5-6 year old T-ball team to celebrate Greenwood's participation in Austintown Community Baseball. The local dealership donated $500, and all of the proceeds from the Chevy fundraiser will benefit the league.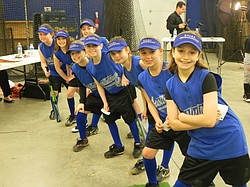 Photo
Neighbors | Sarah Foor.April 29 was opening day for Austintown community baseball. The Kalra Orthodontics team, who are 9-10 year old girls in the fast pitch softball league, showed off their game faces on their first day.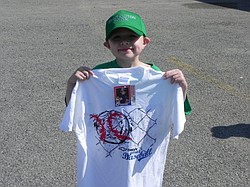 Photo
Austintown community baseball announced their Chevy Cruze fundraiser on their opening day on April 19 and each player for the league received a Chevrolet T-shirt for free that morning. Trey Rigley, player for the 5-6 year old T-ball league, proudly showed off his.
By SARAH FOOR
Kids from all over Austintown were out at the ballgame on April 30, as community residents celebrated opening day for Austintown Community Baseball (ACB).
In the midst of taking team photos and beginning first games of the season, ACB debuted its Chevrolet Cruze fundraiser, sponsored by Greenwood Chevrolet, which could raise as much as $10,000 for the league.
Greenwood offered its sponsorship to the league in association with the Chevrolet Youth Baseball Program. The dealership donated a one-time gift of $500, as well as baseball kits with equipment bags, ball buckets, dry erase coach's clipboards and T-shirts.
There will also be a 2,000 ticket fundraiser for the chance to win one of four Chevy vehicles. All proceeds raised from ticket sales will be donated to the baseball league.
ACB board president Rich Gunter is grateful for Chevy's support of the league.
"It's the generosity of sponsors like Greenwood that keeps our registration fees low, our league affordable and our facilities and equipment in great shape," Gunter shared.
Representatives from Greenwood said they are happy to lend a hand to Austintown kids.
"We are proud to be able to help the kids in our community by donating equipment and giving them the opportunity to raise much-needed funds for their league. We are excited to be part of the effort this year, and anticipate a fun-filled season with Austintown Community Baseball League," said Teri Simon, advertising director for Greenwood Chevrolet.
More like this from vindy.com