Riding high on the hog at GM show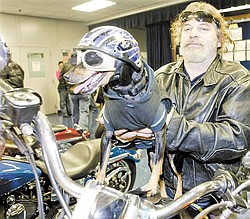 Photo
Trace Insley, a GM Lordstown employee from Austintown, and his dog, Buddy, were among a group of more than 30 motorcyclists participating Thursday in the 15th annual GM Lordstown Bike Show. The event raised money for the March Of Dimes.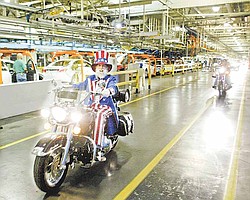 Photo
William D. Lewis The Vindicator Gary "Bones" Mowen, a GM Lordstown retiree, leads a group of more thn 30 motorcycles through the GM plant early Thursday morning during the 15 th annual GM Lordstown Bike Show. The event raised money for the March Of Dimes Charity. Mowen, an avid rider is known for wearing an Uncle Sam costume while riding his motorcycle.
GM Lordstown Bike Show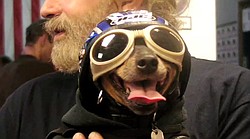 Video
The 15th annual GM Lordstown Bike show had one rider that has logged over 50, 000 miles on two wheels.
By William D. LEWIS
LORDSTOWN
The throaty roar of motorcycles echoed through the General Motors Lordstown complex early Thursday as more than 30 riders, most decked out in biker attire, drove their machines past the Chevrolet Cruze assembly line as part of the 15th annual GM Lordstown Bike Show.
A few of the motorcycles were carrying passengers also decked out in biker gear. One of the passengers, named Buddy and sporting goggles, helmet and T-shirt, has logged more than 50,000 miles on two wheels.
Buddy, however, is a miniature Pinscher owned by GM employee Trace Insley, who says the pup has become somewhat of a goodwill ambassador in the bike community.
Buddy, who is 6 years old, is a trained therapy dog who rides with Insley to visit hospitals, nursing homes and veterans and gets smiles wherever he goes, as was evidenced by the number of GM employees crowding around the canine while snapping photos.
"He loves to ride," said Insley, who has worked at GM Lordstown for about a year after being transferred from a plant in Delaware.
The pair have visited numerous bike events and rallies as far away as Sturgis, S.D. The dog rides on the gas tank of Insley's Harley-Davidson motorcycle and is strapped with a leash to his owner.
The GM Lordstown Bike Show has become a tradition at the plant and raises money for charity.
This year's bike show raised money for the March of Dimes.
While GM employees checked out the iron, chrome and leather on display, Buddy stole the show. As people crowded around the pooch to pet him and get a closer look, Insley took it in stride.
"Having your best friend ride with you is always a good feeling," he said.