Safety emphasized in gun program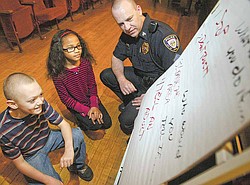 The Vindicator

Photo
Hubbard Police Sgt. Chris Moffitt goes over the steps children should take if they come across a gun on the playground, in school, on the school bus, at a park or anywhere. Learning the Eddie Eagle GunSafe Program guidelines of stop, don't touch, leave the area and tell an adult are Roosevelt Elementary School students Luke Lowry and Toshenna Stone.
By LINDA M. LINONIS
HUBBARD
People discard all sorts of stuff, including guns. Litter is unsightly, but guns are potentially lethal.
The Eddie Eagle GunSafe Program emphasizes safety in how to react if a student should come across a gun on the playground, in school, on the school bus, at a park or anywhere.
Students at Roosevelt Elementary School learned how to be "gun safe" from Sgt. Chris Moffitt of the city police force Wednesday.
Moffitt said Roosevelt second- through fourth-graders went through the 30-minute program as did kindergartners through fourth-graders at St. Patrick School.
Moffitt likened the gun safety instructions to what to do in a fire — stop, drop and roll. The gun safety guidelines are stop, don't touch, leave the area and tell an adult.
Moffitt explained in more detail what each step means.
Stop — what you're doing.
Don't touch — the gun might be loaded and go off.
Leave the area — get away from the gun.
Tell an adult — find a trusted adult immediately and tell them about the gun.
The Eddie Eagle video featuring eagle-eye Eddie eagle that the students watched also brought out the point that children might encounter a gun at a grandparents' home. The video showed children playing with old hats, radio and sports equipment in grandmother's attic, where a long-forgotten gun was lying on the floor. Eddie Eagle swoops in to help the children do the right thing and stop what they're doing, leave the area and tell grandmother.
Moffitt said the repetition of the message in the video and his part drive the point home to the students. He gave examples of possibly coming across a gun at Harding Park or seeing a fellow student put a gun in a locker. Then he asked again what student should do and they went through the drill.
He emphasized to students that telling an adult about finding a gun isn't being a tattletale or snitch ... it's about keeping yourself and others safe.
Moffitt was asked how to tell difference between a loaded and unloaded gun. "I've been a police officer 21 years and can't tell the difference," he told the students. "Just think of a gun being loaded all the time ... and follow Eddie Eagle's tips.
The police sergeant did note that toy guns are now marked with orange or red tips.
"Every year, children and adults are injured or killed in gun incidents," Moffitt said. He noted that incidents in the Mahoning Valley and recently in Texas of children finding a gun and then picking it up have led to tragedy.
In a question-and-answer session after the video and program, children were curious about the police sergeant's belt and what was on it. "These are tools to help keep me safe and help protect you," he told them of his gun, handcuffs and Taser.
He told the students that he would prefer not to use his gun so he may use a taser or pepper spray to subdue someone. "I've used my baton to pick up a snake," he said.
Ray Soloman, Roosevelt principal, said, "This is a great partnership with the school and city and township police."
He said the children have a positive experience interacting with police. "They feel at ease talking to police."