Public packs Pa. court for dog-cruelty testimony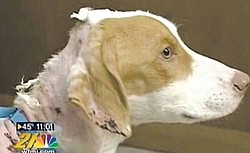 Photo
Two people have been arrested in the chemical burning of their dog, who is now in the custody of the Mercer County Humane Society. The humane society has named the 14-month-old hound mix Chance.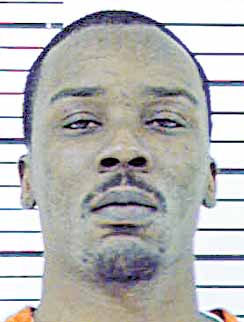 Photo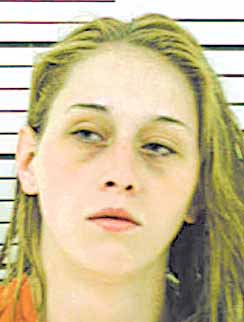 Photo
VET TELLS OF ABUSE SUFFERED BY YEAR-OLD HOUND MIX 'CHANCE'
By Jeanne Starmack
SHARON, Pa.
Two people charged with animal cruelty had their cases transferred from the district justice to the Mercer County Common Pleas Court.
People crowded into district Justice Dennis Songer's courtroom Wednesday morning to listen to testimony in the preliminary hearing for Raelynn Van Tassel, 23, and Shannon Clarke, 34, of Baldwin Avenue, Sharon.
The pair are charged with misdemeanor animal cruelty in the burning, starving and abandonment of a year-old hound mix that Van Tassel apparently had named Roscoe. She and Clarke, who share the Baldwin Avenue home, had the dog since he was a puppy, police have said.
A Sharon police officer found the dog April 10 in the North Flats area, wandering near an abandoned warehouse several blocks away from the Penn State Shenango campus. The officer alerted the Mercer County Humane Society, which took custody of the dog, named him Chance and placed him in the care of veterinarian Craig Kryger at Hermitage Veterinary Hospital.
Kryger testified Wednesday that lab tests showed the dog had a splash burn, either from a chemical or scalding water, over more than 50 percent of his body.
He said the dog was in pain so severe that the clinic controlled it with medications including fentanyl, which is 100 times more potent than morphine.
Kryger also testified the dog's two front teeth were driven up into the bone and had to be removed. He said only "blunt force trauma" could have caused such an injury.
Chance is still at the clinic, though he should be released in the next few days to his new owners, Renee Dorogy, Mercer County humane officer, told The Vindicator. The new owners do not want to be identified, but Dorogy said they were present in the courtroom.
Others there to listen to the testimony did not have a direct stake in the case.
"We're here for Chance," said Rosemary D'Apolito, who drove from Youngstown with her friend Sondra Dastoli.
Another spectator was Van Tassel's aunt, Denise Lake, but she, too, was there for Chance.
Lake said she doesn't know what happened to Chance. "The dog was malnourished, and that didn't happen overnight," she said.
Kryger testified that Chance weighed 32 pounds and should have weighed more than 50 pounds.
"I prefer not to deal with people like that — family or friends," Lake said. "I think they need to make stronger laws on animal abuse."
Steven Ray, the Sharon detective-sergeant who investigated the case, testified Van Tassel was in a drug-rehabilitation program from March 30 to April 5. She told the detective that when she returned, the dog was gone.
In a subsequent interview, she admitted she'd seen the dog when she got home and said it had a softball-sized injury on its haunch. She told him she thought it had been in a fight with another dog. She later changed her story, he said, admitting she'd seen the dog when she got home and she was aware that Clarke and a friend named Travis Silva were taking him from her home April 8. She denied knowing they intended to abandon the dog.
Another witness named Brandi Kirby testified that Van Tassel, with whom she had worked, approached her at a gas station to tell her that it was "Roscoe on the news."
"She said Shannon took the dog down by Penn State and left the dog hoping someone would take care of it," Kirby said.
Silva testified that he spent the night at Van Tassel and Clarke's house April 7 to 8, and the dog was in the basement, limping and whimpering.
He said he and Clarke "loaded the dog up" April 8, went and cashed Clarke's paycheck and then proceeded to the North Flats and left the dog there.
Atty. Ryan Bonner said Van Tassel didn't have any malice and she shouldn't be charged with cruelty, only neglect.
He and James Goodwin, Clarke's attorney, said Clarke left the dog hoping someone would help it.
Songer said there was no follow-up to check on the dog's welfare.
"Never a call or concern as to where that dog was taken," he said. "It was left. Had it not been found, it would have died a horrible death."
Van Tassel is out of jail on a $2,500 bond. As of late Wednesday afternoon, Clarke was still in the Mercer County Prison in lieu of $5,000 bond.