In Hubbard, a muddled mess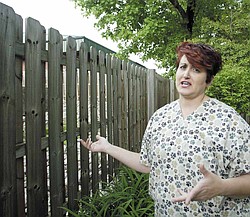 The Vindicator

Photo
Suzanne Wilcox of Orchard Avenue in Hubbard says water from a detention pond from a nearby business causes her property to flood when it rains. Wilcox said she's complained about the problem to city officials for years without any solutions. Compounding the problem, she said, has been the inability of the city engineer's assistant to get her copies of site and drainage plans she wants to help fix the problem.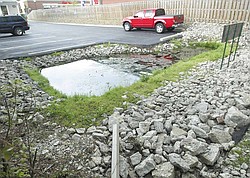 The Vindicator

Photo
The owner of a house near this detention pond on West Liberty Street in Hubbard says water from it is flooding her property. But Virginia Ottenberg, who owns the property with the pond, says that isn't the case.
By Jeanne Starmack
starmack@vindy.com
HUBBARD
When it rains, the runoff water pours all over Suzanne Wilcox's yard behind West Liberty Street.
Wilcox has been fighting city hall about that for years, but the water, apparently a byproduct of business development on West Liberty, is still turning her property on parallel Orchard Avenue into a muddy mess.
Compounding the problem, she said, has been the inability of Robert Toth, the engineer's assistant for the city, to get her copies of site and drainage plans she wants to help fix the problem.
"The water problems didn't exist when we moved here in 1985," she said on a recent soggy day, pointing out the trench of mud that runs between her property and properties above it on West Liberty.
Wilcox, a Girard veterinarian who lives at 111 Orchard with her mother, Mary, blames a small water-detention pond on West Liberty Street property that abuts her backyard for much of the problem.
Water problems at the Wilcox property had been getting steadily worse throughout most of the last decade, Wilcox told The Vindicator in April after her attendance at four city council meetings since February had yet to get her drainage and site-plan records.
She noted that in 2005, the basement of their century-old house had to be waterproofed, and they had to install a sump pump after part of a site above them on West Liberty was paved.
But when an insurance agency was built on that site in 2006, she said, that new property owner added the pond. The flooding intensified.
The sump pump began to run hard, and there is a "Niagara Falls runoff" from the back of the property at hard rains and melts, she said.
The Wilcoxes worry about two vintage buildings, a large stone barn and a small summer house, at the back of their property along the mud trench.
"The old stone barn foundation is cracking," she said. "In the summer house, water started coming up between the cement floor and there are cracks on the wall, which professionals have said water could cause," she said.
She said she has an estimate of $60,000 to fix the damage, but it will happen again if the runoff isn't contained.
Wilcox is working with a consultant, former Hubbard assistant engineer David Kelly, who left that post in 2001 before Toth took over. Kelly recommended removing the pond, she said: "It's not built right."
Wilcox said the owner of the insurance agency, Virginia Ottenberg, would cooperate in removing the pond because she wants more space for parking.
That's true, Ottenberg confirmed. She said, however, that she and Wilcox don't agree on whether the detention pond is working properly.
"The pond is working as designed," she said. "It does not spill over. I've told her: I'm here 355 days out of the year. I come Saturday and Sunday."
She said she has never seen the pond overflow in five years of "seeing every kind of weather."
Wilcox also is concerned about a pipe Kelly recently discovered that is leading from the bottom of the pond onto her property.
Ottenberg said that pipe is not draining water onto the Wilcox property. It is for leachate that seeps into gravel beneath it, she said.
Mayor Richard Keenan said he intends to ask MS Consultants, the city's engineering firm, to give an opinion on what's causing the water problem.
Ottenberg said she believes topography changes from development caused the problem.
Toth said it's because "water runs downhill," though he agreed that new developments should have had proper drainage systems to protect neighboring properties from runoff.
Wilcox contends that Toth is disorganized.
Her complaints against him actually date to 2002, when the church next door built a driveway and parking area. She disputed a zoning variance that allowed the church to build the driveway closer to the property line than city ordinances allow. She also contends Toth didn't order a proper survey of the property line before he granted a permit for the project ­— Toth responded that he showed her the peg from a survey that already had been done.
In 2009, Wilcox began asking for site plans for the insurance agency property and the plans for the retention pond.
Toth was unable to find them, checking with the architect and engineer who designed and built the pond and also with Ottenberg.
"His office was a hoarder's hideaway," said Wilcox.
"I have so much stuff," Toth told The Vindicator in April. "I'm a pack rat. To be accused of not having something is wrong. I'm beside myself in trying to find stuff."
Toth said a turnover in the zoning-secretary position and computer problems accounted for some records he couldn't find. He also said some records may have been thrown away after a leaking ceiling in his office ruined them.
Early this month, Wilcox finally got the detention-pond plans. Keenan, who said he made Toth clean up his office, said the plans were there all along.