Rep. Johnson: End out-of-control spending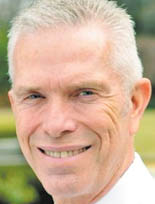 Photo
U.S. Rep. Bill Johnson of Poland, R-6th
BOARDMAN
U.S. Rep. Bill Johnson, R-6th, said he was elected to cut federal spending, create jobs, reduce the size of the federal government and repeal health-care changes.
"Every vote that I've taken, thus far, has moved us down the road on those goals," he said Tuesday at a Youngstown/Warren Regional Chamber breakfast at the Holiday Inn in Boardman.
Johnson of Marietta said he opposes increasing the national debt limit — which is $14.3 trillion and was hit Monday — unless legislation includes certain provisions.
Those provisions include trillions of dollars of spending cuts, reforms to cut taxes and a balanced-budget amendment.
"The debt is a symptom of the disease called out-of-control spending," Johnson said.
Johnson also said President Barack Obama could quickly lower gas prices by announcing a national energy policy to make the United States "energy secure" in 10 to 15 years. That would include drilling for oil and natural gas, using coal, looking at nuclear power and alternative-energy sources, he said.
Johnson called for drilling the Marcellus Shale and Utica Shale, two underground formations in and near this area that are believed to contain large amounts of natural gas.
"We could be sitting in the midst of a Saudi Arabia of natural gas," he said.
When asked if he is supporting a presidential candidate in next year's Republican primary, Johnson said it was too soon. He also said he hasn't made up his mind about endorsing a candidate.
He added: "We've got some strong candidates. There's no question about that. And I think we've got candidates that are saying the kinds of things that the American people want to hear: Stop the out-of-control spending, develop an energy policy, fight the war on terror, protect America, put America first, take advantage of the fact that America is exceptional and reassert America's exceptionalism as a way of life. So I think there's going to be some very strong candidates."
Johnson spent 26 years in the U.S. Air Force, including working with special- operations forces on their information-technology needs.
Johnson also praised the special-operations forces members that killed Osama bin Laden in Pakistan on May 1.