Otto hopes for big things as newest GM at Kennsington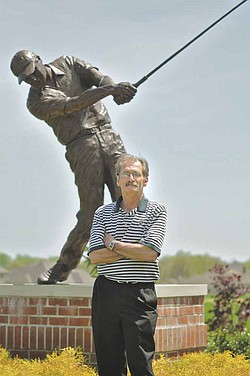 Special to the Vindicator

Photo
Paul Otto stands in front of a statue at the entrance of Kennsington Golf Club in Canfield. Otto, the third general manager of the course in as many years, has been around golf since he was eight — 50 years ago.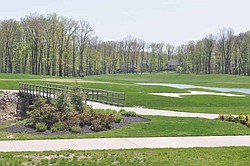 Special to the Vindicator

Photo
A view of the natural visuals of Kennsington Golf Club in Canfield. New general manager Paul Otto hopes to use the aesthetics of the course, as well as its interesting layout, to draw in more customers and expand the game of golf.
By Jon Moffett
CANFIELD
Paul Otto has kind of been a nomad in recent years.
A transplant from Wisconsin — or North Dakota or Florida, depending on the time of his life — Otto has always felt at home in one place: the golf course.
And now he's ready to call the Mahoning Valley his home. But instead of bringing tons of luggage and appliances with him, all he really packed was about 50 years of experience in the golf business.
Born and raised in Appleton, Wis., Otto moved to the Valley in January when he was named the general manager and head pro at Kennsington Golf Club. He's the third general manager for the course in as many years.
But Otto doesn't care to talk about the past — "I didn't ask [about why past management failed], and I don't want to know," he said. He's much more focused on what he can do to improve one of the newest courses in the Valley.
"I bring quite a bit of experience with me," said Otto, who has been involved with golf since he was eight. "The second place where I was the head pro was actually ranked as one of the best new golf courses by Golf Digest. Now, this was back in the '80s, but this course was ranked in the top 10.
"And when I first saw [Kennsington] last November, there were no leaves on the trees, it was cold. But I was intrigued by the layout. And now that I've gotten here and we've begun play, this golf course has a fabulous track — it's in my own top 10, top 15 easy."
That sentiment is shared by some of the course patrons. Several area golfers were excited to hear about Otto and the experience he brings to one of their favorite places play.
Jerry Ricciardi, 36, of Canfield, said the aesthetics of the course are what get golfers in the door and make them want to play.
"I think it's a beautiful layout, it really is," he said. "I think as you play, you really learn to appreciate the nice layout. And it's not just all about looks.
"You have to have a good club selection because each hole is a little bit different," said Ricciardi, who golfs once or twice a week. "I think the greens are a little bit tougher here just in terms of consistency, speed and ball placement."
The course, which opened in 2006, is still in its "grow-in phase," Otto said. Some of the greenery is still coming in, and the water hazards are still settling.
Otto said the real beauty of the course is its layout.
"I like that some of the fairways are pretty expansive, so there is some great hitting areas. But some of them are tight," he said. "There are five par-3s on the course, and each one of them has its own character."
Golf is definitely something that Valley natives love. And Otto knows that each course has its own unique elements.
So what makes people want to Kennsington?
"I think the aesthetics, the playability and our massive greens gives the course enough character to make the people want to play here again," he said. "They play the first time and then want to come back, think their way around the golf course and play even better."
That's the business side of golf. The other side, Otto said, is the customer service aspect. And that's what he prides himself on more than maybe anything else.
"When someone pulls in the parking lot, they're here to play golf and enjoy themselves, we should take care of the everything else," he said. "It's always been my philosophy — and I'm trying to instill it into my employees as well — is to provide a quality product at a great golf course.
"It's already a great course. Now we just have to enhance it with customer service," he said.
Otto said some of the things he hopes to do to improve the course are to increase the game for everyone. He said he wants to bring in more women and children to enjoy golf with tournaments and other special events.
The course is also opening a restaurant in the clubhouse for a more relaxing environment.
At the end of the day, though, Otto said he doesn't really want to be the person who comes up with all the new ideas. Instead, he wants the patrons to chip in.
"I want to talk to them when they walk in, certainly," he said. "But I want to talk to them when they come off the course as well. I want to get their input and here what they want ... If we don't know what the problems are, we can't fix them."
And it doesn't seem like there are that many problems. Otto said on one day, 50 people called to register tee times. But more than 100 actually teed off that day.
"There's definitely a passion around here," he said with a laugh.
And that's a good thing.
"I've got to be part of that influence," he said. "There are quite a few other PGA pros in the area, and I'm sure they feel the same way. But we've got to grow the game."