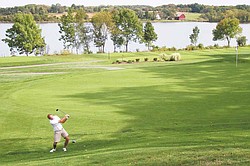 Photo
Dick Marlowe, Tippecanoe Country Club, hits to the 18th green at The Lake Club during last year's inaugural Greatest Golfer of the Valley tourney. The 2011 finals will be played at Lake on Sunday, Aug. 28.
Greatest Golfer | Week 3

Video
This is the No. 4 handicap hole at The Lake Club as it employs a lot of movement in various ways.
The hole is a right to left dogleg, and the fairway landing area slopes left to right — adding to the treachery of the drive. Tall trees grab you if you go through the dogleg, and out-of-bounds is left.
A deceiving green closes the hole. A fairway downslope toward the green disguises the slight elevation in the green, and players can find themselves shorter than they expect. Like the fairway, the green poses some tough terrain, including a dicey swale in the center.