Kasich seeks $400K to cover leftover bills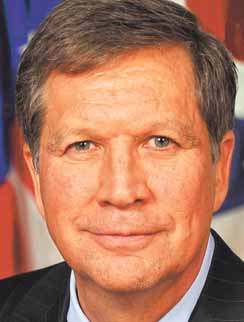 Photo
Associated Press
COLUMBUS
Ohio Gov. John Kasich's office is seeking more than $400,000 it says is needed to cover unpaid bills left by the administration of former Gov. Ted Strickland.
The Republican governor's request appeared Monday on the May 23 agenda of the State Controlling Board, a state panel that votes on special spending requests. It is not unusual for some expenses to carry over between governors, but Kasich spokesman Rob Nichols says the new governor did not anticipate such a high figure.
"It's just another mess that we are being forced to clean up," Nichols said.
Among outstanding obligations cited by the Office of Budget and Management in the Kasich request are two years of membership dues to the nonpartisan National Governors' Association at $88,000 a year and about $22,000 a month in unemployment costs for Strickland employees who lost their jobs after Kasich replaced their boss in January.
Kasich's request also cites about $130,000 in past-due computer and telecommunications expenses the governor's office owes to another state agency, the Department of Administrative Services.
John Haseley, who served as Strickland's chief of staff, said their administration did not leave Kasich with outstanding debt.
"We had budgeted adequate money for the governor's office to finish out the fiscal year without any problem, and we did not anticipate going to the Controlling Board with a supplemental budget request," Haseley said.
As Kasich has sought to cut government and take on public-employee unions, his office's proposed budget for the two years beginning in July has been scrutinized closely. He increased salaries over Strickland's rates for many of his top staff, but slightly reduced the budget overall because he has fewer employees.