Mahoning County Treasurer quits after charge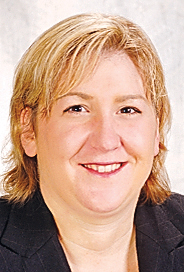 Photo
1994-98: Director of operations for the Mahoning County Democratic Party.
February 2002: Antonini, serving as deputy clerk in the Mahoning County Treasurer's office, picked by David Ditzler, Austintown trustee, to succeed him as Democratic Party chairman.
June 11, 2002: Democratic Party precinct leaders pick Antonini as the first woman to lead the party. She defeated Atty. Mark Belinky for the chairman's post.
July 2002: Antonini is appointed to state Democrat Party's executive committee.
2006: Antonini wins
another four-year term as party chairwoman.
2006: During the trial in which Anthony M. Cafaro Sr., then president of the Cafaro Co., filed a lawsuit to stop the county from purchasing Oakhill Renaissance Place and moving the county's Job and Family Services from the Cafaro-owned Garland Plaza, Antonini, then deputy county treasurer, acknowledged her cellphone records showed 28 calls made or received
between her and Cafaro Co. headquarters between Aug. 12, 2006, and March 17, 2007, but said she never spoke to Cafaro, company president, about Oakhill.
March 2007: Party precinct committee members select Antonini to replace John
Reardon as county treasurer. Reardon resigned to work for the state.
2007: Gives videotaped
deposition in Oakhill Renaissance Place criminal conspiracy case.
March 2008: Antonini wins Democratic primary for county treasurer. She ran unopposed for the post in the November general election.
April 10, 2009: Resigns as head of county Democratic Party. Party precinct committee people select Atty. David Betras as her successor about two weeks later.
May 16, 2011: Antonini resigns as treasurer after U.S. attorney's office charges her with honest-services mail fraud.
Source: Vindicator files
YOUNGSTOWN
The honest-services mail fraud charge filed by the U.S. attorney was no surprise to Lisa A. Antonini, who resigned abruptly as Mahoning County treasurer Monday, several hours after the criminal charge was filed in federal court.
Antonini, 41, of Gladwae Drive, Youngstown, and her lawyer, George G. Keith of Cuyahoga Falls, signed a waiver of indictment April 13, and agreed Antonini, whose annual salary was $68,275, would be prosecuted by information, federal court records show.
An information, an admission of wrongdoing, can be filed only if the accused waives indictment.
The available sentencing range is probation, or up to 20 years in prison and a $250,000 fine. The case was investigated by the Youngstown FBI office and is assigned to U.S. District Judge Donald C. Nugent.
Antonini was charged with taking and failing to report a $3,000 cash contribution during her primary campaign for county treasurer Jan. 16, 2008, from a local businessman who is not identified in the information, while reporting only a $200 contribution he gave by check.
"In exchange, Antonini continued to support the businessman's interests and understood she would take official action on his behalf if opportunities arose," the information says.
Mike Tobin, a public affairs specialist for the U.S. attorney's office in Cleveland, declined to confirm the identity of the businessman; and Justin J. Roberts, the assistant U.S. attorney prosecuting the case, could not be reached for comment.
Board of elections records released in response to a Vindicator request list only Anthony M. Cafaro Sr., former president of the Cafaro Co., as a person who contributed $200 by check Jan. 16, 2008, to Antonini's election campaign. Cafaro, however, has not been charged with any crime related to gifts to her campaign.
Cafaro and his company and two current and two former county officials are under indictment in a separate case for allegedly conspiring to impede the move of the county department of Job and Family Services from Cafaro Co.-owned rented quarters to the county-owned Oakhill Renaissance Place.
"It doesn't really relate back to our company, so we really wouldn't have anything to say about it," said Joe Bell, director of corporate communications for the Cafaro Co., when asked about the $200 donation.
Although the Cafaro Co. had nothing to say about Antonini's troubles, Mark Munroe, Mahoning County GOP chairman, seized the opportunity to attack local Democrats.
Antonini "is just one more in a long list of local Democrats who have tarnished the integrity of our local, state and federal government," Munroe said. Her departure as a public official "has created yet another setback for this Valley, from which it will take years to recover," he added.
Antonini was county Democratic Party chairwoman in 2008.
Atty. Dave Betras, county Democratic Party chairman, announced that the application deadline to fill Antonini's unexpired term will be May 31, with the county Democratic central committee members meeting at 7 p.m. June 6 at the Maronite Center to select her replacement.
"I join with the citizens of Mahoning County in both my dismay over public corruption and my appreciation for the U.S. Justice Department's unflagging commitment to pursuing and prosecuting those who abuse the public trust," Betras said.
Antonini sent a one-sentence letter announcing her resignation as treasurer, effective immediately, to Jon Husted, Ohio Secretary of State.
Betras said the county commissioners may appoint an interim treasurer until the Democratic committee meets, but they have not yet done so.
"The duties of overseeing the office would fall to me by default," Dan Yemma, chief deputy county treasurer, said late Monday.
Antonini also immediately expressed remorse. "I am ashamed and embarrassed by my actions. I deeply regret having disappointed the people of our community who placed their trust and confidence in me. I am sincerely sorry for having let so many people down," Antonini said in a media statement.
"I am fully prepared to accept the consequences of my actions, and, when the appropriate time comes, I look forward to having the opportunity to rebuild and resume my life," she added.
Honest services fraud alleges a public officeholder devised a scheme to defraud citizens of their right to honest services through bribery and the concealment of material information.
In a federal court filing, Roberts said the Antonini case is related to those of Maureen A. Cronin, a former Mahoning County Common Pleas Court judge, and Jim Tsagaris, a former Trumbull County commissioner.
Cronin, 57, of Canfield Road, was fined $4,000 and sentenced to 27 months in federal prison after she pleaded guilty to two counts of honest-services mail fraud. Her release from the Federal Correctional Institution in Greenville, Ill., is set for March 8, 2012.
Cronin admitted taking and concealing an $18,000, no-interest cash loan from Flora Cafaro, sister of Anthony M. Cafaro Sr. and part-owner of the Cafaro Co., while that company had cases pending in her courtroom. Flora Cafaro has not been charged with any crime related to the loan to Cronin.
In December 2009, Tsagaris, 76, of Howland, was sentenced to nine months in prison for violating terms of his house arrest on two counts of honest-services mail fraud by going to a fast-food establishment and a cigar store and taking his sister to medical appointments and to a grocery store.
Tsagaris took and failed to disclose a $36,551 loan that he never repaid from an unidentified local businessman in late 2004, while he was a commissioner, and then voted on matters that benefited that businessman.