Infocus: Spring in the Garden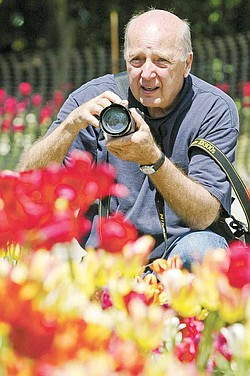 Gallery
Fellows Riverside Gardens offers an abundance of flowers in full bloom
STORY & PHOTOS
YOUNGSTOWN
As the saying
goes, "Spring has sprung," and tulip season is in full bloom at Fellows Riverside Gardens in Mill Creek MetroParks.
Thousands of brightly colored tulips adorn the popular botanical gardens located at the park's northern end.
Mahoning and Shenango valley residents for generations have flocked to the
12-acre gardens. According the park's website, more than 400,000 visitors per year frequent the gardens.
Steve Lynn, an amateur photographer from Boardman, is no exception. "How can you not come to the gardens? I'm drawn like a magnet to the gardens," Lynn said.
He said he's been visiting and photographing the gardens since they were established in the early 1960s.
According to the park's website, Fellows Riverside Gardens was the culmination of a dream by Elizabeth Fellows "to create a beauty spot for all to enjoy." She
donated land and money for the gardens. The first planting was in 1963. The Fellows Riverside Gardens Trust provides perpetual care of the gardens, a special place for many people.
On most weekends, wedding parties can be seen
using the gardens as a backdrop for photographs.
Suzanne Hill, a retired pastor from Liberty, also is a regular visitor. She finds walking through the gardens to be a spiritual experience.
"We live in a busy, hectic world and can find peace in the gardens," Hill said. She also is an amateur photographer and makes greeting cards featuring her images from the gardens.
Ken and Darlene Detwiler of Youngstown also are frequent visitors and are passing on the tradition. A recent sunny morning found the Detwilers and their great-grandaughters, Brooklyn and Myleigh Broll, strolling through the gardens, taking time to smell the flowers along the way.