Mount graduate tops in triathlon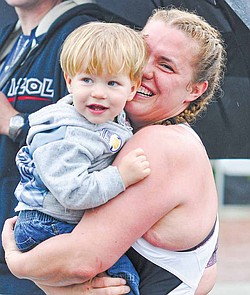 Special to the Vindicator

Photo
Angela Boelk, 29, of Medina hugs her son, Asher, at the finish line of the D.D. & Velma Davis Family YMCA's Sprint Distance Triathlon on Sunday. The event attracted nearly 100 participants. Each contestant competed in a 500-yard swim, a 14.5-mile scenic bike ride and a 5K run at the branch's Boardman facility on McClurg Road.
Results from Sunday's triathlon were not made available. The Vindicator has reached out to event organizers and will publish them if and when they are received.
By Greg Gulas
BOARDMAN
The D.D. & Velma Davis Family YMCA's Sprint Distance Triathlon is one of the earliest competitions of the season.
The event serves as a conditioning gauge for participants, letting them know where they stand and what parts need work.
The seventh annual triathlon, held Sunday in conjunction with the Steel Valley Triathlon Club, drew nearly 100 registrants ranging in age from 16 to 70. The turnout was down slightly from the 138 which entered last year.
Competitors were asked to compete in a 500-yard swim, a 14.5-mile scenic bike ride and a 5K run at the branch's Boardman facility on McClurg Road.
Rainy weather might have posed one of the biggest course obstacles.
"Everything rally went well and according to plan, except for the weather, which we cannot control," Margo Jacobs, co-director said. "Everyone had a great time and really it shouldn't matter if it rains, since you start the competition of by getting wet.
"This event raises funds for our Strong Kids Campaign, which provides memberships for those who ordinarily couldn't afford a membership," Jacobs said.
Doug Brown, 36, of Alliance was the first to cross the finish line. Brown, a former four-year letter-winner in track and cross country at Mount Union College and a two-time All-American, earned men's and overall top honors with a time of 1:09.19.
"I've been a runner for years and this is the third time that I am competing in this event," Brown said. "My goal was to finish in an hour and seven minutes, but overall I was pleased with my performance."
Columbiana's Amanda Frost, 32, who was sponsored by Cycle Sales of Boardman, was the women's winner in a time of 1:12.32.
The ultimate goal of the five-time champion is to end up in Ogden, Utah, on Sept. 24 to compete in the XTERRA Off-Road Triathlon.
"I thought that I did well despite running a minute slower than last year," Frost said. "The wet conditions posed problems for everyone and I got a little confused on the run portion, but the volunteers were great and really helped out.
"The XTERRA is a mountain biking, trail running, lake swimming event in which I am hoping to compete," Frost said." I have actually hired a coach, Rick Kattouf, to help me get ready for that event."
Josh Winters, a Boardman High and Youngstown State University graduate, participated in his third triathlon.
"It was my cousin, Tony Badalato, who got me interested in triathlon competitions and after running cross country in middle school, never dreamed that I would be doing this type of event," said the engineer for 3M in Canton. "I actually ran my first marathon this past October, finishing the Detroit Marathon [3:56.20] under four hours."
Team Mel consisted of YMCA employees Mel Johnson, Jennifer Pasvanis and Rachel Forney, who each took a leg of the event.
The team was formed at the last minute with Johnson performing the swimming leg, Forney the biking and Pasvanis the running portion.
"I was going to try to do all three events but my wheelchairs didn't arrive in time," said Johnson, a para-athlete.
Forney said, "I did this cold and without any previous training and it was rather intense."
Pasvanis added that it was exciting.
"It wasn't easy but I did it," Pasvanis said. "Just waiting to be one of the last to go out made it exciting. The course wasn't overly challenging, but you did have to pace yourself."
Boardman's Edd Fowler, 65, was tops in the men's 60-and-older age group, posting a time of 1:26.25. Dave White, 70, of Hookstown, Pa., was the oldest entrant and posted a time of 1:42.02.
"This was my second year competing and my goal was to break 1:30, which made me very happy," Fowler said. "I took the tri-skills class here last winter with Corky Pike and Robin Turner and it really helped me out. They broke it down into three sessions and laughed at how I swam.
"Now, I feel like I can swim forever," Fowler chuckled.
White, who didn't start running until he was 66 years old, has run more than 130 5Ks. He takes part in half-marathons and even competed in last year's Cleveland marathon.
He's also qualified for the Boston Marathon.
Training for a marathon is tough, which is why I prefer a half marathon," White said. "Despite qualifying for the Boston Marathon, I thought that I had plenty of time to register so I was disappointed when they were sold out on the very first day."
Turner, a co-director, looks forward to preparations for their 2012 event.
"Weather was a factor in overall times, but tri-athletes are a hearty bunch that won't let a little bit of rain stop them," Turner said. "Our event just keeps growing, so it's never too soon to start planning for next year."