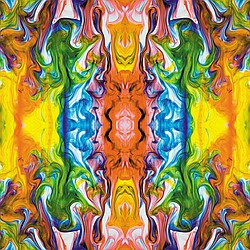 Photo
"DMT [Dimethyltryptamine]" by Alex Stulock.
DETAILS
For more information about Alex Stulock's book "This Is Your Brain On Drugs" or to order it, go to http://stulock.net.
Boardman man's abstract photos
By GUY D'ASTOLFO
In an unflattering way, Youngstown gets the credit for Alex Stulock's new-found interest in photography.
The computer software developer recently released his first art book, "This Is Your Brain On Drugs." But he never would have picked up a camera if it hadn't been for his days at Youngstown State University.
"During my last year at YSU I lived on the North Side of Youngstown and bought a handgun to keep in the house," said Stulock. "I never had to use it on anyone and came back to [my hometown] North Olmsted with a piece of metal that wasn't necessary to have in that area. I figured I should trade it for something, and chose a camera. I can't recall the reasoning behind my choice, except that it might have been on solely a price equivalency basis."
Being totally new to photography, Stulock — who now lives in Boardman — hit the library and read everything he could find on the subject. "The learning process felt good so I stuck with it and started shooting outdoors and indoors," he said.
His book is a compilation of abstract photos that depict the human brain "in the metaphysical sense," he said. The vaguely-evil looking images are meant as visions of consciousness while under the influence of drugs.
The purpose of his art, Stulock pointed out, is not to endorse drug use, but to provide hypothetical visions of how the brain operates while under the influence. Stulock, who majored in information technology at YSU, works for Notify Technology Corp. in Canfield, a software technology company.
To create the images, Stulock dropped food coloring into a clear solution, which he then photographed. The resultant artworks have a kaleidoscopic quality and resemble color Rorschach inkblots. They vary in detail and color, and contain hidden images.
"Images of the brain just seemed right to me and the color gave the symmetry a punch in a way that made it complete in a way that seeks perfection," said Stulock. "Dreams and states of mind and drugs always interested me, and this was a perfect time to create my own concept of how the brain could hypothetically look as a microcosm of invisible energy within us that can create beautiful things and change, depending on the actual brain thought process.
"Some look a little bit evil, and there are definitely faces in some of them — alien looking things — but it's cool."
Stulock researched each drug to give context to each image. In his book, he includes text for each piece that explains how the drug's effects could produce such an image.