St. Patrick Church remains an anchor in neighborhood of change
St. Patrick Church centennial ...
St Patricks 100th Anniversary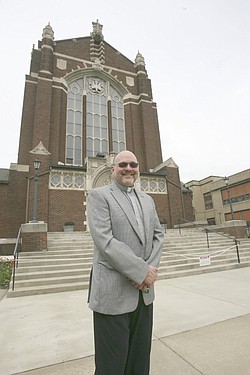 Gallery
By LINDA M. LINONIS
YOUNGSTOWN
The legacy of commu- nity involvement at St. Patrick Church can be traced to its first pastor, the Rev. Charles A. Martin, who offered the first Mass on June 4, 1911, for the newly established church.
"Father Martin promoted being involved in the neighborhood," said the Rev. Edward "Ed" Noga, pastor since 1985.
And Father Martin, who surely was ahead of his time realizing the tool that sports could be, prompted the Patricians Club of the church to organize and sponsor a football team, the Youngstown Patricians or "Pats." A book, "The Sunday Game — The Dawn of Professional Football," details the big role that the Patricians played as a regional football team and predecessor of the National Football League. The team was popular, had many notable former college players and drew big crowds to games.
St. Patrick's has a well-earned reputation for delicious spaghetti dinners and entertaining St. Patrick's Day gatherings. But it's the "Gospel values in people's lives" that is the mainstay of the parish and it members, said Father Noga.
The pastor said his and members' involvement and support of ACTION, Alliance for Congregational Transformation Influencing Our Neighborhoods, contributes to the vibrancy and relevance of the church. "ACTION puts us in regular contact with people of other faiths and we work on community issues."
"Most of what a church is goes on outside the walls and faith is fortified within the walls. It makes all the difference," Father Noga said.
Recently, a group of parishioners gathered to talk about the church. They are: Bill Crawford, lifelong member and a church historian; Jack Doran, lifelong member, usher coordinator and tour guide; Pat Kerrigan, 12-year member and former parish council president; Nancy Ryan, 50-year member and president of the Altar Guild; Christine Silvestri, 12-year member and Parish Life chair- woman; Elaine Welsh, 25-year member and public-relations volunteer; Tom Welsh, 20-year member and secretary of St. Vincent de Paul Society; and Sister Dorothy Zwick of Humility of Mary order and visitation and bereavement ministry.
Sister Dorothy said the church motto, "hope in the heart of the city," reflects the welcoming atmosphere of the church. "We're open to everyone ... our church is multicultural," she said. "We have beautiful liturgies and it's a prayerful place."
Tom Welsh said, "We're set apart because we're one of a few center city parishes. Only 12 percent of members live in the neighborhood, others come from all over."
"The church is an anchor in the middle of change," Kerrigan said. "Father Noga promotes Christian social action and we buy into it."
Kerrigan, who is involved in property acquisition for the church, said it has been successful in buying derelict properties and demolishing them. Between 25-30 properties have been acquired; two are being used for Habitat for Humanity. "People in the neighborhood feel safer, it makes life better and reduces crime," he said.
Houses on church property on Cleveland Street were torn down to make way for gardens cultivated by 4-H Clovers. "The produce is offered to people and church members who need it," he said.
The church worked with the city to create the Irma Davis Park on Oak Hill near the Needle's Eye Christian Counseling Center that the late Mrs. Davis founded. It has collaborated with the center on projects. "So many give so much here," said Crawford.
Members take the social action commitment out of the city and state; two 15-passenger vans carrying church members will make a parish trip June 11-19 to Slidell, La., to work on Hurricane Katrina damaged homes. "We do what's needed," said Silvestri.
Church member are volunteering this month at the St. Vincent de Paul soup kitchen on West Front Street; the church also contributed $2,500 for the food.
Within the church, Ryan said Generations of Faith is a nontraditional religious education program for children to adults. Sister Dorothy said the visitation ministry sees hospitalized members and friends and the homebound and takes the Eucharist. "They pray for us and we pray for them," she said.
The spaghetti dinners are a social time and benefit others; for example, the Dorothy Day House received proceeds from two events. "We've been having them a long time ... since the 1970s. The recipe is Anna Lawson's and it's a secret sauce," Ryan said. The dinners are monthly from October to May. "Holy Rollers" make between 1,600 and 2,000 meatballs.
Church members volunteer in many avenues. Elaine Welsh said, "Father Noga brings forth your gifts and talents." The former communications director of a nonprofit agency handles public relations.
Doran, who gives tours, said many think the church is the cathedral because of its imposing edifice and interior beauty.
On staff are: Canary Russell, housekeeper since 1976, who likes the "friendly place" and sent her children to the former church school. Debbie DelQuadri, secretary for nine years, said, "There's something different going on every day." Terry Bixler, maintenance for 12 years, said, "Every day is a new job." Dan Kielar, Faith Formation director, supervises religious education.
---
St. Patrick Church, 1420 Oak Hill Ave., Youngstown, is celebrating its centennial with a series of events that began in January and will conclude in October. Highlights this month are: May 22, a 10 a.m. Mass with Bishop George Murry, and May 24, from 6:30 to 8:30 a.m. free coffee and donuts on Market Street in honor of the 100th year and at 7 p.m., a performance by the Youngstown Symphony Orchestra at the church followed by a reception.
The beginning: In 1911, Bishop John P. Farrelly of the Cleveland Diocese, of which Youngstown was then a part, established a new parish, St. Patrick Church, on the city's South Side. The Rev. Charles A. Martin was first pastor. Father Martin offered the first Mass of the newly established parish on Pentecost Sunday, June 4, 1911, in St. Columba Church hall. As a temporary residence, he rented a six-room frame house on the southeast corner of Cleveland Street and Oak Hill Avenue for $18 a month. Here, daily Mass was offered. The house, which still stands, was sold in 1991 to CHOICE, a local housing- rehabilitation program, with some help from the parish and St. Vincent de Paul Society. Groundbreaking for the present rectory was in the spring of 1912; an addition and garage were added eight years later. The structure was remodeled in 1990; the entire cost of the project was a gift from a parish benefactor.
Church building: Property was bought in June 1911, and a California-style mission semi-permanent church was erected in five months, free of debt and dedicated Nov. 12, 1911, by the Rev. Edward Mears, pastor of St. Columba. Plans for a permanent church of Gothic design were begun in the early 1920s under Father Martin, who was transferred in 1922. Plans were continued by the new pastor, the Rev. Edward A. Mooney. He served just three months when he was appointed spiritual director of North American College in Rome, Italy. He was later named archbishop of the Detroit Diocese and elevated to cardinal. The building of the new permanent church progressed under the new pastor, the Rev. William A. Kane, with the groundbreaking in 1923. The cornerstone was laid in 1924; the permanent church was dedicated in 1926.
Activities: Under Father Kane, the St. Patrick Parish Camp at Lake Milton was started, later renamed Father Kane Camp, and eventually operated by the Catholic Diocese of Youngstown. Father Kane, was named monsignor Dec. 23, 1934, and died Nov. 10, 1937. The Our Lady of Miraculous Medal Novena began in 1933 with about 10 weekly devotions on Monday, and continues today with one weekly service at 8:30 a.m. Mondays.
Leaders: The Rev. Maurice J. Casey, who succeeded Monsignor Kane as pastor in 1938, became a monsignor in 1948 and died in 1952. Monsignor Alfred J. Heinrich, chancellor of the diocese, was appointed pastor in 1952 and died in 1964.
Special honor: St. Patrick Church was designated the pro-cathedral when St. Columba Cathedral was destroyed by fire in 1954.
1960s and '70s: The Rev. Arthur DeCrane succeeded Monsignor Heinrich in 1964, and Monsignor P. Breen Malone was pastor from 1967-79. The Rev. Vincent J. Lisi became pastor in 1979. He initiated an Education Development Fund for financial assistance for the school, and planned and executed a successful capital fundraising campaign, the St. Patrick Restoration and Preservation Campaign, in 1983 to secure a minimum of $300,000. Father Lisi resigned in 1985; the Rev. Edward P. Noga was appointed pastor.
Improvements: Under Father Noga, the longest resident pastor, there have been many changes. Several pews in the rear of the church were removed to create a gathering space, and the original baptismal font was placed near the front entrance of the church. The organ and baby grand piano, along with space for the choir, was moved into the main body of the church. The slate roof was replaced debt-free, and a hand-crafted gutter system was completed. A new oak altar, lectern and ambo were made and designed by a parishioner and modeled after the original baptismal font.
Restoration project: In May of 2001, a major restoration project of the interior of the church began. All 72 stained- glass windows were cleaned, broken glass and lead replaced and covered with clear plastic. Brick and sandstone walls were pressured washed and the ceiling was washed and refinished. The oak floor was sanded and re-stained and all pews were cleaned and varnished then placed farther apart to allow for more space between each pew. Six inserts were put into place for wheelchair accessibility. All light fixtures were cleaned and chains and wiring were replaced along with ceiling fans. The ceiling in the sanctuary above the baldachino was cleaned and repainted. The cost of $300,000 was totally paid for by parishioners, contributors, foundations and friends of St. Patrick. The church hall was used for Masses and within six months, the congregation returned to a completely cleaned and restored main church.
2000s: In 2005-06, a new stairway was placed in the boys' sacristy from the main church to the church hall. An elevator was installed between the doors by the south entrance and the church proper for handicap access to the church hall. In 2006, St. Patrick parking lot on Cleveland Street and Oak Hill Avenue was enlarged and extended over to Kenmore Avenue, adding 40 parking spaces.
Source: St. Patrick Church
More like this from vindy.com