Canfield gets victory in marathon game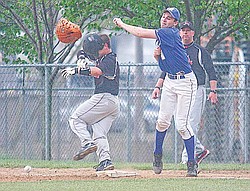 Photo
Canfield's Anthony Ross (5) gets tangled up with Hubbard first baseman Austin Eppstein (4) during a Division II sectional championship baseball game Friday at Cene Park. The Cardinals dominated the Eagles, 12-2, and will face Niles on Wednesday.
By John Bassetti
STRUTHERS
Brock McGivern's walk-off hit — a fly ball to left-center — in the bottom of the sixth, scored Canfield teammate Joe Tuchek to finish a game that started 24 hours earlier and 13 miles away.
The 12-2 sectional championship win over Hubbard (6-10) at Cene Park vaulted the top-seeded Cardinals (13-8) into the district semifinal against Niles.
Back-to-back defensive plays in the fourth inning by McGivern, as the second baseman, and Tuchek, the shortstop, lent a spark that complemented the multi-purpose role of Brad Smith, who allowed three hits before reliever Tony Mehle pitched the final inning Friday evening.
As the starter in the game that began at Canfield High School's field on Thursday, Smith gave the Cardinals a 2-0 lead with his first-inning home run in the game halted by lightning and rain.
Following Smith's at-bat, Michael Wittman's RBI single tacked on another Canfield run for a 3-0 lead that the Cardinals transported to Cene Park .
Of his home run with Ben Angelo on board on Thursday, Smith said that it was a fastball, high and down the middle.
"I just turned on it and went," he said.
Wittman also had a two-run homer on Friday to give the Cards a 5-0 lead to start a six-run third inning.
Smith (4-0) made his pitching look easy, too.
"Everything was pretty much on today," the Canfield senior said of the location of his slider, splitter and fastball.
"I tried to throw them off by changing up the pitches to keep them off-balance and it worked this time," he said.
His two-pronged contribution made it one of his bigger games this season, but the team-effort theme was obvious, too.
"It [defense of McGivern and Tuchek] helps so much that it makes you want to just throw the ball and not worry about where you're placing it and let your defense take care of it," said Smith.
Before catching the looping ball off the bat of Hubbard's Mike Lopuchovsky, McGivern ran sideways, then twisted around and lunged before falling with the ball in his glove.
On the next play, Tuchek fielded Andrew Hover's hard-hit grounder and threw to first baseman Josh Midgley in time.
Coach Matt Koenig liked his team's 3-0 lead before they got off the bus on Friday.
"Scoring three runs put us in a really good mood coming here. Walking into a game with a three-run lead is going to do wonders for you. You've got a lead so you can just start throwing strikes and let your defense play."
Koenig also liked knowing that Smith was going to be on the mound.
"I think he threw nine pitches [Thursday], so it's not like he was all that stressed. It might be considered a good bullpen session for him. He came out and was throwing pretty hard and he was hitting his spots. He may have run out of gas around the fifth, but he had a great performance, offensively and on the mound."
Koenig also praised his infielders.
"We try to tell our guys not to panic when you get guys on base. We've turned a lot of double plays this year and Brock and Joe are really good up the middle. Sometimes that's the pitcher's best friend: a ground ball with runners on. We proved that today and yesterday, too. It worked out for us."