40 awarded YSU scholarships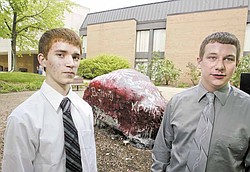 Photo
Philip Monrean, left, of Ursuline High School and Andrew Stamp of Struthers High School are among the 40 students who comprise Youngstown State University's 19th class of University Scholars. They talked about the honor near the rock on the YSU campus.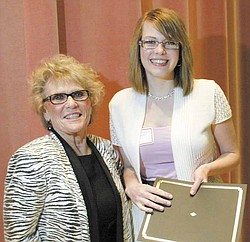 Photo
Megan Chambers, who graduates next month from Boardman High School, poses with Cynthia Anderson, Youngstown State University president. Chambers is one of a new group of Leslie H. Cochran University Scholars recognized Friday at YSU.
By Denise Dick
YOUNGSTOWN
Tuition and room and board at Youngstown State University will be covered for 40 graduating high school students as recipients of the Leslie H. Cochran University Scholars Awards.
The scholars, honored Friday during a program in the Chestnut Room at YSU's Kilcawley Center, must maintain yearly requirements of 60 hours of volunteerism, an overall 3.5 grade-point average, active participation in the University Honors Program and complete extracurricular activities.
If they meet those requirements, the scholarship is renewable for four years.
Eric Shehadi, who is graduating from McDonald High School, is one of those scholars. He plans to major in mathematics and physics.
"I really felt like YSU could give me a great education," he said.
Shehadi looked at other universities, but people at YSU — from professors to admissions personnel — sold him.
"Everyone at YSU was so welcoming," he said.
They also seem to have his best interests at heart, Shehadi said.
Spencer Curcillo, who will graduate from Rutherford B. Hayes High School in Delaware, Ohio, will study math education and plans to be a math teacher.
YSU's Scholars Program offered him the best deal financially of all of the schools where he applied, and when he visited campus, he liked what he saw.
Cynthia Anderson, YSU president, welcomed the students to YSU, which she called a "true family."
"We're large enough to offer the programs and services of the mega-universities and small enough to treat you one-on-one."
Andrew Stamp, a soon-to-be-Struthers High School graduate, will study music education.
"The music school [at YSU] is fantastic," he said.
Stamp also looked at other schools.
"I just felt that YSU was a better fit for me," he said.
The trombone player has worked through his high-school career with some of the YSU professors, so he feels as if he already has a connection to the school.
Though he acknowledges the scholarship's requirements are strict, he doesn't believe he would have been accepted into the program if he couldn't handle it.
Philip Monrean of Girard, an Ursuline High School senior, will major in music performance. He also acknowledges the challenges of maintaining the scholarship requirements but believes that will help him stay focused on his studies.
Monrean, who plays classical guitar, hopes to go on to graduate school after earning his YSU degree. The idea of being debt-free upon earning his bachelor's degree, which the scholarship provides, was especially appealing.
The programs offered also attracted him.
"They have an outstanding music program — the Dana School of Music," Monrean said. "I've been hearing about it since I was a kid."
The University Scholars program, now in its 19th year, is funded through the YSU Foundation and is named after former university President Leslie H. Cochran.