Warren patrolman violated policy, internal-affairs officer says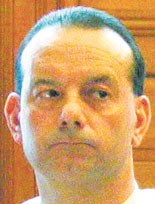 Photo
Warren Patrolman Jeff Hoolihan
By Ed Runyan
WARREN
The police department's internal-affairs officer has concluded that Patrolman Jeff Hoolihan violated departmental policy when he "blew the whistle" on what he considered a "cover-up" of an unprosecuted criminal act.
Hoolihan, a former detective assigned to patrol duties two years ago, admitted to Jeff Cole, the department's internal-affairs officer, that he contacted a television reporter for 21 WFMJ-TV in March and told her about the investigation.
Hoolihan said his 2008 investigation indicated that pornographic images were found on a city wastewater employee's work computer.
Hoolihan told reporter Janet Rogers he felt there was sufficient evidence to charge the employee, but officials had done nothing about the matter. Hoolihan also termed the city's actions a "cover-up."
Cole wrote in a May 5 memo to Hoolihan's superviser, Capt. Tim Roberts, that Hoolihan's interview, which was aired on the station's broadcast, violated the department's policy regarding release of information on active investigations.
Roberts will review Cole's investigation and recommend whether Hoolihan should face administrative charges.
The matter also will be reviewed by Police Chief Tim Bowers, who ordered the internal-affairs investigation, Roberts said.
In response to the internal-affairs investigation, Hoolihan cited Ohio's whistleblower statute as a defense for his actions.
The statute says an employee who has discovered that his superviser or appointing authority has failed to act on a violation of state or federal law "may report it to a prosecuting attorney, director of law, village solicitor, or similar chief legal officer of a municipal corporation" or an agency such as the ethics commission.
An employee doing this is protected from being punished for such conduct, the statute says.
While interviewing Hoolihan about the incident, Hoolihan told Cole that his actions were justified by the whistleblower statue.
But Cole responded that "the statue does not authorize employees to contact the media."