'Oh Wow' children's museum opens in Youngstown
By DENISE DICK
denise_dick@vindy.com
YOUNGSTOWN
OH WOW OPENS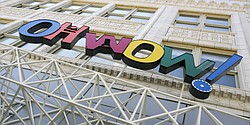 Video
Mayor Jay Williams brought his son Ethan, who is nearly 9 months old, to the grand opening, joking that the boy will give him cover to act like a kid and enjoy the center himself. He said the center will be a great place for children and families to come and have fun while learning. He thanked the Joneses for "sharing the wealth of your love."

Photo
Roger and Gloria Jones, for whom the Oh Wow! children's center is named, talk Thursday morning about their contribution to and interest in the facility at 11 W. Federal St., Youngstown.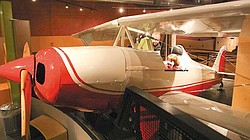 Photo
Maria Alexander, 7, a first-grader at Campbell Elementary School, takes a turn in the cockpit of a biplane at the opening Thursday of Oh Wow! The Roger & Gloria Jones Children's Center for Science & Technology.
Campbell Elementary School first-grader Maria Alexander, 7, took her turn in the cockpit, delighting over the controls.
"I'm flying," she said.
Maria and her classmates in Josie Minnie's class enjoyed time Thursday morning at the grand opening of Oh Wow! The Roger & Gloria Jones Children's Center for Science & Technology, 11 W. Federal St.
Chris Munoz and best friend Christien James, both 7, shared the cockpit, flipping switches, pulling the throttle and pushing buttons at the controls.
The plane, which allows kids to learn about avionics, is sponsored by Fireline Inc. Roger and Gloria Jones, for whom the center is named, founded Fireline and have donated $250,000 to the center.
Gloria talked about a school focusing on arts and technology near Detroit that says in its motto that if you keep children interested in learning, creating and feeling powerful until age 12, they'll be interested in learning for the rest of their lives.
Both she and Roger believe it's important to keep children
interested in science and technology.
Mayor Jay Williams brought his son Ethan, who is nearly 9 months old, to the grand opening, joking that the boy will give him cover to act like a kid and enjoy the center himself.
He said the center will be a great place for children and families to come and have fun while learning. He thanked the Joneses for "sharing the wealth of your love."
Ronald Cornell Faniro, president of the center's trustees, said the facility is the result of the "hard work of a lot of people."
"We wouldn't be here today without partnerships," Faniro said. "We have many partners involved with us from the public sector, from the private sector."
The center gives children the opportunity to learn in a fun way, he said.
All activities focus on science and technology from engineering and the environment to sound and light and brain power.
General admission to the center is $5 per person, but will increase to $7 on June 1. Children 2 and younger get in free. The cost is $4 for senior citizens and veterans, and that price increases to $5 on June 1.