Giuriceo camp may have found opponent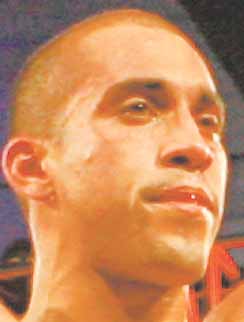 Photo
Boxer Jake Giuriceo of Struthers
What: Thrill on the Hill, presented by Lights Out Management.
When: Saturday, 7 p.m.
Where: St. Lucy's Banquet Center, Campbell.
Confirmed bouts: Aaron Dufour (2-1) vs. Chad Blevins (0-0), light heavyweights; Wilkins Santiago (2-1) vs. Russ Niggemyer (2-1), light middleweights; Derrick Moss (0-0) vs. Daniel Crabtree (0-1), lightweights; Joe Luketic (1-0) vs. Mike Arnold (0-1), light middleweights; Miguel Gonzalez (16-2) vs. Christopher Fernandez (19-12-1), light welterweights.
Also scheduled to fight: Jake Giuriceo, light welterweight; Michael Moore, light middleweight, Damar Singleton, light heavyweight.
Tickets: Available at the door and at these locations: First Choice Rentals (Warren), Patsy's Bar (Campbell), Crickets (Youngstown), Don Vito's (Struthers), Jensen Lock & Alarm (Struthers), Patrone Brothers Landscaping (Girard), Bogey's Bar & Grille (Lowellville), Check-n-Go (Youngstown), Wine Cellar (Youngstown), Campbell Party Shop (Campbell).
Staff report
By Greg Gulas
CAMPBELL
As Jake Giuriceo anxiously awaits word of his next opponent, Chris Fernandez and Miguel Gonzalez remain in countdown mode as they ready themselves for Saturday's WBF light welterweight international title clash at St. Lucy's Banquet Center.
Giuriceo's original opponent, Rod Salka, was scratched for medical reasons, which left Tom Cordell, James Infante and Mike Cefalde of Lights Out Productions, promoters of the event, burning the midnight oil in search of a formidable replacement.
"We've worked tirelessly to find a capable replacement for Jake," said Cordell. "On such short notice, however, we've narrowed the field down and are awaiting final word from Oscar Cuero of Columbia.
"We should have that word sometime early Friday morning," Cordell said.
Cuero (13-6, 10 KO's) will definitely have his work cut out, facing Giuriceo on his home turf but most especially on such short notice.
The six-bout card will also feature the pro debuts of Cleveland's Derrick Moss and Chad Blevins of Glouster, while Toledo's Damar Singleton (7-0, 4 KO's) and Lorain's Wilkins Santiago (2-0, 1 KO) seek to remain undefeated professionally.
"We've had a few challenges, to say the least but remain committed to bringing some of the best boxing that's out there to the area," said Cefalde.
"This six-bout card will showcase two fighters as they go after the WBF International light welterweight belt, as well as Jake Giuriceo, who will be fighting in front of his hometown fans.
"The undercard also features some excellent match-ups as well," Cefalde said.
Gonzalez (16-2, 13 KO's), nicknamed "Silky Smooth," is undefeated in his last 10 ring appearances, has 13 KOs to his credit and has been busy of late, fighting five times since December.
He expects that Fernandez, 35, will be a boxer on a mission; someone who will keep the pressure on with the hopes of earning his first championship belt.
"Fernandez is an aggressive, non-stop puncher and in top condition," said Gonzalez. "I plan on utilizing my jab and head movement and will keep moving to the right in order to take his long distance right and slow him down."
Fernandez, of Salt Lake City, concedes he needs to have the fight of his life if he expects to stop Gonzalez.
"I realize that I am fighting on Miguel's home turf; in his backyard so to speak so it's no secret that I must knock him out if I expect to even have a chance."
Fernandez said Gonzalez is a lefty and he hasn't fought many lefties.
"I don't see that as being a problem," he said. "What I have done differently in order to prepare for this fight is increase my running, spar longer rounds and take less rest between rounds so that I can be in the best shape when I enter the ring this Saturday night.
"The fight won't go 10 rounds," Gonzalez said.
In undercard action, Singleton will take on Grover Young (5-1, 2 KOs) of Memphis in a light middleweight matchup while Santiago will meet Russ Niggemyer (2-1, 2 KOs) of Columbus, also in a light middleweight scrap.
Moss meets Daniel Crabtree (0-1) of Columbus in a lightweight pairing with Blevins' light heavyweight debut set to go off against Ashtabula's Aaron Dufour (2-1, 2 KOs).
Two other fighters, Michael Moore (8-0, 5 KOs) and Joe Luketic (1-0, KO), both light middleweights, are hoping to see action.
Tickets are $75 for Golden Ringside seats, $50 for ringside and if purchased in advance, $20 for general admission; $25 at the door the night of the fight.
A table of eight ($400) includes food and drinks.