Mahoning County seeks to fill budget director's position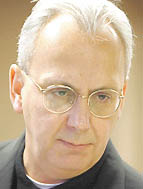 Photo
By Sean Barron
YOUNGSTOWN
Mahoning County commissioners are conducting interviews in an effort to find a county budget director.
The ongoing effort is in response to their decision not to renew or extend county Administrator George Tablack's contract, Commissioner John A. McNally IV said during Thursday's meeting.
Tablack was informed in a letter sent to him Monday that his contract, which expires Sunday, will not be renewed. McNally, chairman of the commissioners, and Commissioner Carol Rimedio-Righetti signed the letter. Commissioner Anthony Traficanti did not.
Traficanti declined to discuss the decision Thursday.
"I just want to wish him [Tablack] well," Traficanti said. "He was auditor over 20 years, and his numbers were always accurate."
Commissioners plan to have Tablack's duties handled by a full-time human-resources director and a budget director.
RECYCLING/REUSING | Top finishers
Eight students out of 1,246 entries from Mahoning County schools won a poster contest centered around the importance of recycling and not littering, and received awards during Thursday's Mahoning County commissioners' meeting. Students, grades and schools:
Alyssa Rapp: first grade, Poland Dobbins Elementary School.
Sarah Graham: second, Springfield Elementary School.
Sierra Sebastian: third,
Poland Union Elementary.
Arianna Maillis: fourth, Campbell Elementary.
Sareena Sethi: fifth,
Canfield Village Middle School.
Alessandra Protopapa: sixth, St. Nicholas School.
Rachel Strollo: seventh,
St. Joseph/Immaculate Heart of Mary.
Alisia Rivera: eighth,
St. Christine School.
Source: Mahoning County Green Team
Commissioners have hired Rachel Livengood of Troy, Ohio, as the new HR director, and she will make $67,500 annually. She is to start next week, Righetti said.
Tablack did not attend the meeting and was unavailable to comment.
McNally and Righetti said they support hiring the two directors because it gives commissioners greater flexibility concerning financial and other matters.
The decision also is in keeping with residents' desire for more hands-on, transparent government, they said.
In other business, students in grades one through eight received awards for their participation in the 2011 Place Mat Design Contest, sponsored by the Mahoning County Green Team and Dominion East Ohio Gas Co.
More than 1,200 students from county public, private and parochial schools made posters describing anti-littering, recycling, reusing and reducing themes, noted Peg Flynn, a Green Team environmental educator.
The top posters will be used as place mats at numerous area restaurants to remind employees and patrons of the importance of recycling, Flynn said, adding that the eight students received gift cards and backpacks.
Also at the session, information was available about an electronics recycling drive, set for 9 a.m. to 3 p.m. Saturday at the Covelli Centre.
Mahoning County residents are encouraged to recycle old and worn-out stereos, cellphones, computers, fax machines, microwave ovens, cameras, DVD players, printers, monitors and other such items.
Charges apply for monitors and TVs, depending on the size of the set. For more information on those charges, call Youngstown Little Control and Recycling at 330-744-7526 or email recycle@cityof-youngstownoh.com.