150 dance and socialize at Special Needs Prom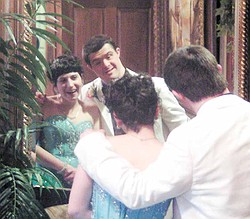 Photo
Bianca Severino and Mark Saraceno check out their reflections in a mirror at Antone's Banquet Center in Boardman during a Special Needs Prom. About 150 attended the dance Thursday night.
By Kristine Gill
BOARDMAN
Parents snapped pictures and marvelled at an array of attire outside Antone's.
But shortly after 5 p.m., Mom and Dad had to go.
"It's so the kids can be in their own element," said Joy Nola, an intervention specialist with Southern Local Schools.
About 150 students from schools in the tri-county area attended Thursday's 15th annual Special Needs Prom.
This year's theme was "Let the Good Times Roll" and featured oversized dice and playing cards in a Las Vegas backdrop.
It was junior James Davis' first trip to Nevada.
"Are you a big gambler?" Nola asked the Southern Local High School student.
"No," Davis said with a smile. He was more excited about dancing.
"They have a great time," said Alicia Muzina, an intervention specialist with Canfield schools. "They're so excited about it."
Canfield has organized the event for the past 15 years and receives donations from several local businesses as well as a discount from Antone's.
"All the teachers and aides say this prom is more fun than regular prom," said Stefania Bauman, another Canfield intervention specialist.
"They're able to come with the support they need," Bauman added. "They're able to experience what typical peers experience."
Each student will receive a free DVD with video from the event, and groups of students from each school also had photos taken.
"I love the dance," said Stacie Stratis, a junior at Canfield High School. Stratis wore a navy blue dress with silver accents including a tiara.
Ryan Creighton, 21, is a graduate of Columbiana High School who now attends a transition program with Columbiana County Educational Service Center. He wore a red tie with a white dress shirt, black shoes and pants with a small checkered print.
"It's always fun here," he said. "I come here about every year."
Creighton was even crowned king at the prom three years ago.
"You're just hoping to dance with all the girls this year," said his mother, Sherry, a teacher at Canfield High School.
"Oh yea," Creighton said.
Michele Grandon, 19, of Sebring McKinley High School was thrilled to be at this year's event for the first time.
"I'm so pumped right now," she said. "I'm going to dance nonstop for two and a half hours. You should see me out there."
And dance she did to Michael Jackson's "Billie Jean." The high school senior wore a light pink dress with silver sequins.
"There's no cliques, there's nobody making fun of anybody's dress, and when we're out on the dance floor, everybody dances with everyone," Nola said. "Everything is so accepted. It's a beautiful experience."