WRTA ranks low in job use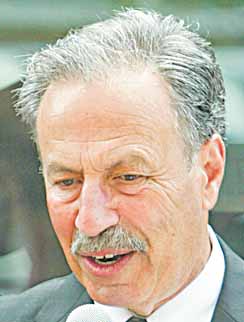 Photo
Jim Ferraro, WRTA director.
Best and worst
The Brookings Institution ranked 100 transit systems in the U.S. on their ability to
connect people to jobs:
top 5
Honolulu, Hawaii

San Jose-Sunnyvale-Sante Clara, Calif.

Salt Lake City, Utah

Tucson, Ariz.

Fresno, Calif.
bottom 5
Riverside-San Bernardino-
Ontario, Calif.
Youngstown, Warren, Boardman, Ohio-Pa.

Augusta-Richmond County, Ga.-S.C.

Palm Bay-Melbourne-
Titusville, Fla.
Poughkeepsie-
Newburgh-Middletown, N.Y.
Study puts system at 97th of 100 in US
YOUNGSTOWN
A study released today by the Brookings Institution ranked the Western Reserve Transit Authority 97th out of 100 transit systems nationwide in terms of connecting people with jobs.
"This study is not a behavioral model. It's not about what people are actually doing. It's looking at what they can do," said Elizabeth Kneebone, a co-author of the report published by the institution, a nonprofit public policy organization based in Washington, D.C.
"... We know that gas prices are volatile but generally going up. ... The economy is starting to work into recovery, and we wanted to know what are the options for residents of these different metropolitan areas. As more people are trying to get out of their cars, to avoid congestion or high gas prices, can they use transit?" Kneebone said.
The rankings were issued based on a combination of transit coverage and job access, she said.
There was some good news for WRTA. In Youngstown, 100 percent of working-age residents have access to a bus stop within three-fourths of a mile of their neighborhoods, Kneebone said.
In the suburbs, however, only 27 percent of those residents have that access, she said.
"The average nationwide was that 70 percent of working-age residents have access to transit. That's a great starting place, but then where they can actually get to work using transit, only 30 percent use it," Kneebone said.
WRTA Executive Director James Ferraro said between 55 percent and 60 percent of last year's 1.26 million riders used WRTA to get to work.
"The overwhelming majority [of riders] have to travel to the suburbs because that's where the service-based employment jobs are available. ... A lot of what we do is work-related, but not five-day-a-week type of work," he said.
Ferraro said WRTA has not traditionally fared well in national studies because it is put in a category with much larger cities.
Riders in cities use transit because it "cuts down on gridlock and high-priced parking. In areas like ours, most, if not all, of our riders are transit-dependent. They really don't have another choice. It's tough to compare," he said.
Kneebone also said the average wait between buses — 27 minutes — lowered WRTA's ranking.
Ferraro acknowledged that the wait time, especially if riders need to transfer buses, makes it "tough to compete with the automobile. An hour per trip is just too long."
Kneebone said that the Mahoning Valley is classified as the Youngstown-Warren-Boardman metropolitan area, which also played a role in the ranking.
"Warren is the second-name city, and it's not actually covered by transit," she said.
Ferraro said that WRTA serves people in Mahoning County, and many residents are using the dial-a-ride service rather than standard bus routes. He added, however, that getting people to work remains part of the system's purpose.
"Without a doubt, that is part of our mission statement — getting people to employment and improving quality of life," he said.