Students participate in Scrappy's Scholars Reading Club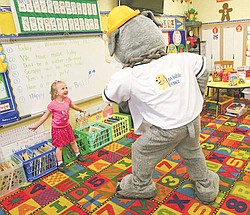 The Vindicator

Photo
Scrappy, the mascot for the Mahoning Valley Scrappers minor-league baseball team, plays with kindergartner Jessica Hentzel who pulled his tail. The 23 students in Robin Speece's class at Austintown's Lloyd Elementary School earned a pizza party Wednesday with the mascot for reading 1,684 books since January.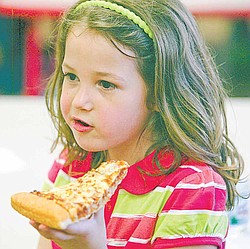 The Vindicator

Photo
Kindergartner Laura Lanterman enjoys her pizza at the party.
By Kristine Gill
AUSTINTOWN
Lloyd Elementary kindergartners in Robin Speece's class were rewarded for reading by a special guest.
"I see Scrappy," students shouted Wednesday as the Mahoning Valley Scrappers mascot greeted them.
Speece's 23 students have read 1,684 books in class and at home since January, qualifying them for a pizza party. Scrappy will visit classrooms in 30 participating schools this year.
"I knew we would win," 6-year-old Tyler Lintner said.
"So did I," 6-year-old Chase Lombard added.
Speece said participating in Scrappy's Scholars Reading Club gave her students something to work toward.
"It's so motivational; they just couldn't wait," she said. "They even surprised me. I could never imagine them bringing in that many books."
High-fives, clapping and squeals punctuated the first moments of the popular bulldog's arrival.
"My neighbor next door had a bulldog," said 5-year-old Jenna Debaldo.
"My dad had a bulldog when he was little, and it slobbered all over the house," Tyler said.
Scrappy's assistant Chris Sumner, also an account executive with the Scrappers, passed out plates and napkins while Scrappy, also known as Matt Finamore, tried eating the chalk board eraser and a kindergartner's head.
"He's really a ham, isn't he," Speece said as Scrappy brought the kids together for a group hug. "That's why they love him."
Jenna said she read five books every day to help the class win.
"I read two in the morning, one in the afternoon and two when I got home," she said.
"I read 20 a day," said Kylee Moss, 6.
Still, students were impressed by the class total.
"I can count to 100 but not to 1,000," Kylee said.
Speece's class will be recognized at a July 13 baseball game this summer when the kids are called down to the field.
"I have some kids reading at second- and third-grade levels already," Speece said. "Every single kid in this class is reading."
The kids said farewell to Scrappy on Wednesday, wiping pizza sauce from their chins. Scrappy shed his fur shortly after.
"It was hot," Finamore said. "But it's fun."