Hlebovy-Church wedding date to be June 17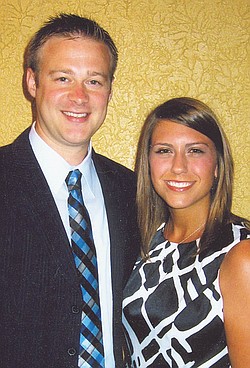 Photo
Thomas Church and Jennifer Hlebovy
BOARDMAN
The engagement of Jennifer Hlebovy and Thomas Church, both of Lakeland, Fla., and plans for their marriage are being announced by her parents, Dennis and Mary Hlebovy of Boardman.
Parents of the future groom are Janis Church and Tom and Judy Church, all of Conneaut, Ohio.
The couple have chosen June 17 for their afternoon wedding at St. Charles Catholic Church and the Links at Firestone Farms in Columbiana for their evening reception. Invitations will be issued for both.
The bride-to-be is a language arts teacher with Stambaugh Middle School in Auburndale, Fla. She graduated from Hiram College with a degree in middle childhood education.
The future groom earned a bachelor's degree in education and a master's in administration from Ashland University. He is an assistant men's basketball coach with Florida Southern College.
More like this from vindy.com