Giuriceo has fight date, but still needs a fighter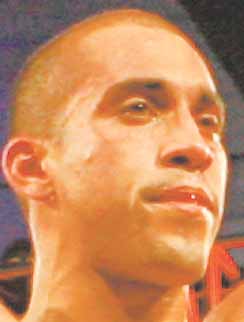 Photo
Boxer Jake Giuriceo of Struthers
FIGHT NIGHT
What: The Thrill on the Hill featuring Jake Giuriceo.
When: Saturday; doors open at 6 p.m., with bouts to begin at 7.
Where: St. Lucy Parish Center, Campbell
Tickets: 330-787-4228 or 330-717-4201. Also Patsy's Bar in Campbell, and Crickets in Youngstown.
By JOHN BASSETTI
bassetti@vindy.com
STRUTHERS
Lights Out Management coordinator Mike Cefalde spent much of Wednesday afternoon's "press conference" at Dona Vito's Italian Grille pacing in and out of the establishment while talking on his cell phone.
Cefalde was in contact with various individuals, such as matchmaker Tom Cordell.
"We're going to do everything in our power to get him a fight," Cefalde said of procuring a light welterweight (138 pounds) opponent for Jake Giuriceo on Saturday night's "Thrill On The Hill" card at St. Lucy's Banquet Center in Campbell.
While Cefalde was busy trying to plug in an opponent for Lights Out's marquee man, most of the rest of the anticipated seven-bout pro fight show seems in place.
Olympic alternate Miguel Gonzalez of Cleveland was one other fighter on hand.
Gonzalez (16-2) is scheduled to meet Christopher Fernandez (19-12-1) of Salt Lake City in a 10-round bout for the World Boxing Federation light welterweight title.
Giuriceo's night isn't so definitive.
Cefalde mentioned possible opponents such as Akeem Orgi (7-4) and Eric Reichert (9-9) of Indiana, Leo Martinez (15-15) of Chicago, Leon Bobo (18-8) of Mississippi and Kevin Carmondy (11-11) of Washington D.C.
The void arose when Giuriceo's opponent, Rod Salka of Pittsburgh, was scratched for medical reasons.
"As of now they're looking at a couple different guys," said Giuriceo, a 2003 Campbell Memorial graduate. "I don't know who they're going to pick — that's up to my team. I just sit back and execute the game plan they put together. I know they're going to have somebody for sure, so we'll be OK."
When the show is just days away, Giuriceo's concentration is on getting in the ring and into action, not so much the physical presence of a particular individual.
"I'm getting prepared to go out and fight against a tough opponent. The [Ohio Athletic] Commission only gives you so long [to have an opponent]," Giuriceo said.
"This happens in boxing. Sometimes it'll be weight, sometimes this, sometimes that, so this isn't anything extreme," he added, noting that his last opponent (Angel Hernandez) was a bit over on the scale for their Feb. 19 clash at the Byzantine Center.
Although Keith Burnside is Giuriceo's regular trainer, recent modifications have come during month-long sessions with Frankie Duarte in Los Angeles.
Giuriceo said that changes in his approach in the ring were first noticeable against Hernandez.
"I was a completely different fighter that night," Giuriceo said. "I still came straight forward, but I had so many different angles when I was pressuring this kid that it was like a boxing pressure instead of my normally aggressive fighting pressure. It had some technique to it."
Giuriceo was asked about the immediate future with 11 fights under his belt.
"I just take it one fight at a time. Lord willing, I'll just keep winning and building a fan base and working my way up the ladder and, hopefully, I'll get a title shot and be a champion one day."