Chaney's final curtain call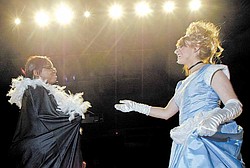 The Vindicator

Photo
Chaney High School students Janaiah Spearman, left, as the Fairy Godmother, and Kaitlyn Cook as Cinderella rehearse a scene from "Cinderella" Wednesday at the school. Friday evening's performance will be the final traditional theatrical production at the school.
IF YOU GO
What: "Cinderella"
Where: Chaney High School auditorium, 731 S. Hazelwood Ave., Youngstown.
When: 7 p.m. Friday
Tickets: $5 at the door
By GUY D'ASTOLFO
dastolfo@vindy.com
YOUNGSTOWN
Chaney High School is down to its last theater production, and the students and directors want to make it one for the ages.
At the end of the current school year, the West Side school will cease to exist in its current form. It will reopen in September as a competitive-admission academy for arts and science as part of the city school system's restructuring.
The building opened in 1953, and when the curtain goes down on its spring musical, "Cinderella," Friday evening, it will mark the end of an era for Chaney theater.
The cast and crew "want this one to go down in history, and talked about forever," said Angela Dooley, director of the theater program at the school for the past three years. "The majority of the cast are seniors, and they see themselves as being the last Chaney graduating class. A lot of them have been working with me in theater for the last three years, so for them, it's the end of an era on so many levels."
Dooley is directing "Cinderella," with Michael Nichols serving as music director and Michael Cotton and Kaitlyn Cook as choreographers.
Cook — who choreographed the Youngstown Playhouse's production of "Oliver!" last month — also is playing the lead role of Cinderella.
"It's going to be a tearjerker for me," she said of the final curtain at Chaney. "Being in drama club for the last four years at Chaney was an amazing and fun-filled opportunity. You see so much negative about our school plastered everywhere that it feels good to know you're a part of an organization that is truly one of the great prides of Chaney High School. Knowing that this is the last show of the traditional Chaney High is such a sad thing for me, but knowing that this is one of the top shows I believe we've ever had makes the situation a whole lot better."
Brendan O'Hara plays Prince Christopher. "It's a sad feeling," he said, "but it pushes you to do your best to end the traditional Chaney's last show with a bang."
Other lead cast members include Michael Cotton as Lionel; Janaiah Spearman, Fairy Godmother; Nilyshia Johnson, Stepmother; Misty Sharrone, stepsister Joy; and Amber Harris, stepsister Grace.
There will be just one public performance of "Cinderella" — at 7 p.m. Friday. Cook said she is hoping for a packed house. Chaney's auditorium has 729 seats.
Two student-only performances today for the Youngstown school system are sold out (attendance is optional, and students must pay to see it).