OH WOW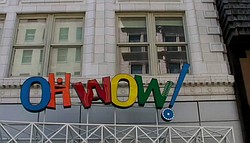 Video
OH WOW, a new children's center, has opened in Youngstown.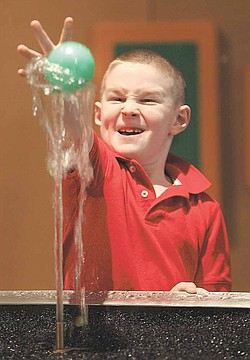 The Vindicator

Photo
Cody Fritz, 7, plays with the stream table, where students can control water pressure to keep plastic balls afloat. Cody is a first-grader at United Local schools in Hanoverton and was visiting Oh Wow! in downtown Youngstown on Monday with his class.
Hours & events
Monday-Thursday from 10 a.m. to 6 p.m.
Friday-Saturday from 10 a.m. to 4 p.m.
Sunday from noon to 4 p.m.
Admission is $5 per person. Children 2 and under are free, and senior citizens and veterans are $4 per person.
For more information about booking field trips or other groups, visit http://valleykids.org.
Today, the board of trustees will host an open house for donors by invitation only from 5:30 to 8 p.m.
On Wednesday, there will be a friends and family event by invitation only from 5:30 to 8 p.m.
On Thursday, there will be an opening ceremony for the public at 10 a.m.
Oh Wow! children's center prepares for Thursday's opening
YOUNGSTOWN
Window washers and caution tape were outside the Oh Wow! building Monday, but inside, 100 first-graders were testing the new center's exhibits.
Oh Wow! The Roger & Gloria Jones Children's Center for Science & Technology officially opens Thursday, but 18 groups of students already have come through its doors in the last three weeks to try out the activities and make suggestions.
"We've had preschoolers through 12th grade," education manager Kelly Bucci said. "They've all had great experiences and found different ways to make things work."
The center targets children age 14 and under but can be tailored for all age groups, Bucci said. All exhibits have a STEM focus in science, technology, engineering and mathematics.
The two-floor facility at 11 W. Federal St. is owned by First National Bank of Pennsylvania, which has offices next door. Peter Asimakopoulos, executive vice president for small-business banking and the Youngstown market president, said the bank's investment in the center is really an investment in the city.
"The youth is such an important part of the community, and we just felt it was a worthwhile project in the central business district and for education," Asimakopoulos said. "It's for our future. The more we can get the students interested in learning, the better."
Asimakopoulos said First National offered "very favorable lease terms" for renting the former McCrory department store building, vacant for the last two decades. The bank bought the building in the late 1990s but hadn't found a proper tenant until someone suggested what was then the Children's Museum of The Valley.
The biggest donations have come from Roger and Gloria Jones of Youngstown, who founded Fireline Inc., which makes refractory pieces used to melt metals and cast turbine blades in airplanes. The couple has donated more than $250,000 to the center so far.
"We truly feel it's something valid," said Roger, 83, chairman of the board at Fireline. "It's for the city, it will help downtown, but the key part is having a place where children can feel excited about science and technology."
Gloria, 77, said their involvement was twofold.
"It touches two things in our hearts — the children in the city schools, and we certainly hope they can improve their computer skills, science and math scores because we think that's the future of Youngstown ... and also we have a great interest in urban renewal."
The center's executive director, Suzanne Barbati, said construction costs inside the building were close to $1 million. The exhibits themselves cost an additional $500,000.
The center's opening marks more than a year of work to retool the museum. The Children's Museum of The Valley on East Boardman Street closed in December 2009. Barbati said the museum, which focused on early-childhood education, couldn't sustain itself with such a narrow audience.
"We said if we're going to stay here, we need to make this more of a STEM focus," she said.
Barbati came on board in March 2009 and helped raise money from private donors through 2010.
The center will target the five-county area of Trumbull, Mahoning, Columbiana, Mercer and Lawrence counties. The old museum had 11,000 square feet of space compared to the 16,000 available at the McCrory building. Barbati said a universal design approach, including wheelchair access and features for people of all abilities, makes the facility eligible and competitive for state grants.
Barbati expects about 30,000 visitors each year but said that's a modest estimate. She has been working with the city to improve marked parking, lighting and snow removal in the vicinity.
"I think this is nostalgic or reminiscent of those days when the city was a destination, and we want to help it become that again," she said.
Mayor Jay Williams thinks the opening will offer a chance for Youngstown families to spend time together and for kids to explore their natural curiosity for all things science.
He said he's excited to visit with his wife and their 9-month-old son Ethan.
"I'm eager to take my son there, even though he's a bit young. It will also give me cover for acting like a kid myself once I get in there," he said.
Amanda Wood, a first-grade teacher from United Local schools in Hanoverton, said the space made it easy to keep track of students during their visit, and the facility was close enough for a day trip.
"Even the setup is nice because they're so contained. Some places have so many floors," she said. "It's an hour drive from Hanoverton, but it's still closer than Cleveland or Pittsburgh."
The ground-level floor of the center holds the permanent displays geared toward state content standards for each grade level. Brightly colored walls enclose exhibits including a stream table, a green screen to simulate a weather anchor's job, a hurricane chamber and a musical organ made of PVC pipe.
"We have been playing with a lot of water," said first-grader Julianna Logan, 7. "My favorite was the tornado. You step in and push all the buttons and it feels like a tornado."
"Like a hurricane," said first-grader Alexis Gibus, 8.
"Yeah, one of those," Julianna said.