Two face charges for burned dog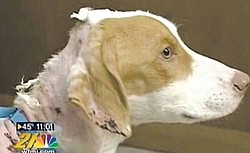 Photo
Two people have been arrested in the chemical burning of their dog, who is now in the custody of the Mercer County Humane Society. The humane society has named the 14-month-old hound mix Chance.
By Jeanne Starmack
SHARON, Pa.
Two people are facing charges in the case of a badly burned dog found wandering in the city.
The dog, named Chance by the Mercer County Humane Society, is still being treated by a veterinarian for injuries he suffered sometime in early April.
Police said Monday that Shannon Clarke, 34, and Raelynn Van Tassel, 23, are facing misdemeanor charges of cruelty to animals.
The two had the 14-month-old hound mix since he was a puppy, said police Chief Michael Menster. He said he could not speculate on what prompted the abuse.
He said Clarke is charged with inflicting the burns, using a liquid chemical that has yet to be identified. Van Tassel is accused of helping Clarke to hide the dog in the basement of their Baldwin Avenue home for several days before they took him to the North Flats section of the city, near the Penn State Shenango Campus, and abandoned him.
Menster said police learned what happened to the dog, which was found wandering near an abandoned warehouse April 10 by a city police officer, through interviews with people who knew about his plight.
He said the dog apparently laid in pain for two days before he was found.
He had three broken teeth and a cut on his mouth and was emaciated.
Van Tassel was arrested Friday and Clarke was arrested Sunday. The two were arraigned in Sharon by District Justice Dennis Songer and were taken to the Mercer County Jail, Menster said.
Van Tassel posted a $2,500 bond, and Clarke remained in jail in lieu of his $5,000 bond, Songer's office said Monday. They will be back in court at 10:30 a.m. May 18.
Chance is now at the Hermitage Veterinary Clinic. Even when he is released to his new owner, who lives in Sharon, he will need months of follow-up care, said Renee Dorogy, Mercer County Humane Agent.
People who wish to donate to his veterinary care can mail checks to the Mercer County Humane Society, PO Box 1046, Hermitage, Pa., 16148, or to the Hermitage Veterinary Clinic, 1500 N. Hermitage Road, Hermitage, Pa., 16148.