Top 'Cat pitches Struthers to victory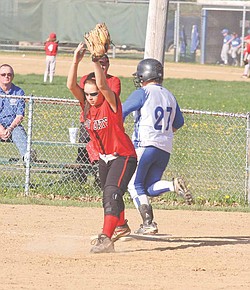 Special to the Vindicator

Photo
Struthers' Mandy Ditman catches the ball before Hubbard's Brittany Lunt can make it to the bag during Monday's sectional opener in Hubbard.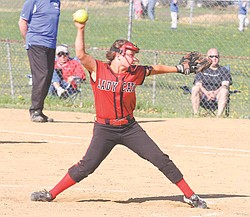 Special to the Vindicator

Photo
Struthers pitcher Katie Jordan fires the ball toward home plate during the Division II sectional opener Monday against Hubbard High School at Harding Park. The Wildcats advance to a sectional semifinal today against Southeast after shutting out the Eagles on a 6-0 two-hitter by junior pitcher Rachel Affagato.
Struthers 6
Hubbard 0
Next: Struthers at Southeast, today, 4:30 p.m.
Rachel Affagato allows two hits in sectional tournament win over Hubbard
By Pete Mollica
HUBBARD
Junior Rachel Affagato tossed a two-hit shutout and the Struthers softball team posted a 6-0 victory over Hubbard in the Division II sectional opener Monday afternoon at Harding Park.
The Wildcats (10-12) opened the game with a four-run rally and Affagato took over from there, allowing just one Eagle to reach third base, while striking out six and walking just two.
"Rachel just pitched lights out today," said Struthers first-year coach Bob Zinni. "She has pitched well for us all season long. She had great heart and guts and today she just said that she wanted the ball and went out and did the rest."
Affagato had plenty of support, both defensively and offensively, as the Wildcats belted out 13 hits, although only one was for extra bases and that came in the form of a first-inning two-run home run off the bat of junior Katie Jordan.
"Our defense was superb today and we were swinging the bats well," Zinni added. "Hubbard is a very good team. We split in our two regular season games with us winning 6-0 and then they beat us 10-0 the last time we played."
Struthers advanced to a sectional semifinal matchup today at Southeast. "They are the No. 2 seed in our sectional and we know what to expect from them," Zinni continued.
Hubbard (8-5) just couldn't get the ball to drop against the Wildcats.
"We hit the ball hard, but we hit it right at somebody all day," said Hubbard coach Ken Miller. "We've had some good games with them this year and it always seems that whoever hit the ball best usually wins and today they hit it better than we did."
Hubbard's two hits both came off the bat of senior Devan Zelonish and both were solid doubles to left field. Her second double was about a foot short of being a home run as it hit off the fence.
But other than that the Eagles could manage just three base runners off Affagato, two were by walks and the other was a passed ball third strike allowing the runner to reach first base.
The Wildcats set the tone for the game in the top half of the first inning, plating four runs on singles by Jessica Ditman and Sami Basista, a sacrifice by Affagato and a two-run single by Ashley Herfferon, which was followed by Jordan's two-run homer to right field.
Basista, who finished 4 for 4 — all singles — also scored twice, while Ditman had three hits and Jordan added a single to go with her round tripper.
The Wildcats added insurance runs in the fifth and sixth inning although the Eagles helped out with an error in the fifth that produced one, while four straight singles by Ditman, Sarah Sajnovsky, Basista and Affagato produced the final run in the sixth.
The Eagles only had two base runners in the same inning once in the fifth when Affagato walked the first two batters, but she then retired the next three in a row, two on strikeouts.