Local Dems to introduce gas-price bill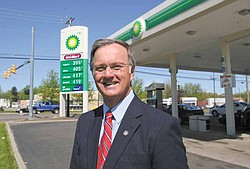 The Vindicator

Photo
State Rep. Ronald V. Gerberry of Austintown, D-59th, plans to introduce legislation that would create a state commission that would review what gasoline companies charge and require them to justify the prices. Gerberry announced the proposal at a BP station in Liberty Township.
LIBERTY
Two Democratic state legislators from Mahoning County plan to introduce a bill shortly in the Ohio House to create a state oversight commission requiring gasoline companies to justify what they charge.
The bill creates a 10-member commission that also would review the state's regulations affecting gasoline supply and prices as well as review and track alternative energy sources, said state Rep. Ronald V. Gerberry of Austintown, D-59th.
Gerberry will cosponsor the bill in the House with state Rep. Robert F. Hagan of Youngstown, D-60th.
At a Monday press conference at a BP gas station on the corner of Gypsy Lane and Belmont Avenue in Liberty, Gerberry said he thinks oil companies are engaging in "price gouging."
The price of regular gas Monday at the BP was $3.959 a gallon, down by about 4 cents from last week.
The cost of gas is about 90 cents more a gallon since January, but some analysts expect a drop of nearly 50 cents a gallon as early as June.
Joe Mlynarski Sr. and his son Joe Mlynarski Jr., both of Liberty, operate a lawn mowing and landscaping business. They were at the BP station spending $42.50 in gas to fill their riding mowers for one days' work during Gerberry's press conference. They say they mow about 10 to 12 lawns a day.
"With gas being up, I have to raise everybody's prices," said the younger Mlynarski. "It's impacting business. People can't afford landscaping because of the gas prices."
When asked about the commission proposal, father and son agreed that something must be done, but weren't on board with government involvement.
"Do we want government to step in?" the older Mlynarski said.
"The government is involved in everything, but I don't know if they should step in."
John Buccini of Campbell was also at the pump, but he could only swing $10 for a little more than 2.5 gallons.
"We have enough gas on reserve in this country to keep the gas rates down," he said.
"But we're not doing anything. It doesn't make any sense at all."
The legislation is bipartisan, Gerberry said. Gerberry and Hagan, both Democrats, will be the main sponsors of the bill in the House. State Sen. Tim Grendell of Chesterland, R-18th, is sponsoring the bill in the Senate.
This is the fifth time Grendell has introduced this bill, and the first time the bill will have sponsorship in the House, Gerberry said.
"Our residents, myself included, are not happy with the oil industry making huge, huge profits in an economic recession," Gerberry said.
"When oil companies are making record profits, it's obscene. Oil needs oversight. If the federal government isn't going to investigate why we have these incredible gas prices, we'll do it at the state level."