Pavlik eager for a summer fight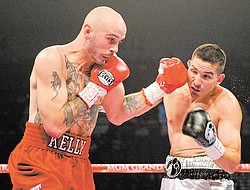 ASSOCIATED PRESS

Photo
Kelly Pavlik, left, lands a punch against Alfonso Lopez in the first round during a WBO World super bantamweight title bout, Saturday, May 7, 2011, in Las Vegas.
By Andy Samuelson
LAS VEGAS
The first thing Kelly Pavlik fans likely noticed Saturday night in his first fight after 13 months away from boxing, even before the more notable ring rust appeared, were the large tattoos covering his chest and forearms as he made his walk into the ring at the MGM Grand Garden Arena.
"Hey I've always liked tattoos and told people for years that later in my career I would probably be getting a few more," said a smiling Pavlik, who defeated Alfonso Lopez by a close majority decision in their 10-round, 171-pound catch weight bout.
The fight was on the undercard of Saturday's main event that saw Manny Pacquiao record a lopsided victory over "Sugar" Shane Mosley.
"There's really not that many more of them, they're just big and take up a lot of space," said Pavlik of the new ink, which includes a scene of a boxer's walk-up entrance on the left side of his chest complete with an announcer's microphone hanging from the moon and the words: "Loneliest Walk."
"You're by yourself out there, there's no teammates. It can feel like the loneliest walk in the world."
Well maybe not Saturday; after all, there were more than a few Pavlik fans amongst the sellout crowd of 16,412 who wanted to know how the former middleweight champ would look in his first fight since losing his WBO and WBC to Sergio Martinez by unanimous decision on April 17, 2010.
"It felt good," Pavlik said. "I didn't go in there and fight quite like I wanted to, but we went in their and won the fight.
"We got the first fight and rust out of the way from 13 months and we got the 'W' against a tough durable kid," said Pavlik of a decision, that judge Adalaide Byrd scored a 95-all draw — but judges Dick Houck and C.J. Ross ruled in favor of Pavlik with scores of 98-92, and 99-91 respectively.
"There was a little rust, but not as bad as I thought it would be," Pavlik said. "It was more an issue of timing. I was letting him come in and he was grabbing me a little bit, I couldn't quite time him like I had hoped and it took a little while to get going."
But had Lopez been able to push the entire fight like he did the first two rounds, Pavlik might have had to come up with some explanations.
Instead Pavlik (37-2, 36 KOs) settled in on Lopez (21-1, 16 KOs) after the fast-firing Texan unleashed a flurry of combinations in the first few rounds.
Pavlik — who connected on 180 of 369 punches compared to Lopez, who landed 168 of 374 — caught up with the 28-year-old boxer from Cut and Shoot, Texas in punch count by the sixth round and actually started to become the aggressor with his powerful right-hand and lesser known, but equally effective, left hook.
By the 10th frame, Pavlik was in a position to finish the fight when he landed a half-dozen successive hooks that looked as if they were gonna put Lopez down.
Trainer Jack Loew was pleased that his prot g was able to perform despite the immense pressure that he not only had put on himself but that felt from others because of his much publicized battle with alcoholism.
"I got to give Kelly all the credit in the world for what he's went through and how he came back with the expectations so high on him and he went out there won," Loew said.
"It was no where close to how Byrd saw it, and I'm not saying the fight was 99-91 either." "
Pavlik said he is ready for an opponent hopefully before the end of the summer.
"It's got to be a big, big fight. [Carl] Froch, [Lucien] Bute, somebody up their in the top level of fighters," Pavlik said
"I don't want any more coming back into play fights, I want a big fight."
Pavlik's manager Cameron Dunkin said he wants to facilitate his fighter's request, but isn't sure which upcoming card, or network would be the best fit.
"I would love for him to fight in Las Vegas again," said Dunkin, noting that Pavlik is a perfect 11-0. there.
"I'm gonna look at the August schedule and see what card makes sense. Summer is a good time with all the pay-per-views, but who knows when and where. We'll see if he fits on HBO or Showtime. Maybe another Pacquiao show too."
That wouldn't be too shabby considering Top Rank officials expect Saturday's event to be seen in more than a million homes, a figure that helped push Pavlik's payday Saturday to nearly $300,000.
With that kind of money, there may be more artwork in the future.
"Oh yeah I'm not done yet," Pavlik said of getting more tattoos. "I got a few things I want to put on the back of my arms. And who knows what else."