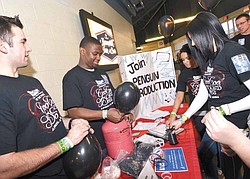 Special to the Vindicator

Photo
Penguin Productions members blow up black balloons as part of a pre-concert promotion for the April 12 Goo Goo Dolls show at Covelli Centre. From left are JD Kubacki, Dennis Pixley, Anastasia Seymour and Olivia Arnold.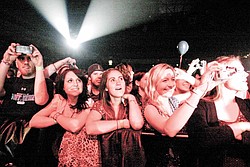 The Vindicator

Photo
The Goo Goo Dolls concert at Covelli Centre was co-produced by Penguin Productions and Eric Ryan Productions. From left are guitarist John Rzeznik and bassist Robby Takac.
Goo Goo Dolls concert was latest promoted by YSU student group
By GUY D'ASTOLFO
YOUNGSTOWN
The crowd of 3,000-plus roared when the Goo Goo Dolls took the stage at Covelli Centre last month.
And the rockers didn't disappoint, reeling off 90 minutes of music punctuated by hits like "Slide," "Name," "Iris," "Black Balloon" and "Broadway Is Dark Tonight."
It was a no-frills show, but full of familiar music and delivered with enthusiasm. The crowd ranged from teens to folks in their 50s, and the standing-room floor area was packed with Youngstown State University students.
Everyone walked away happy. In short, it was a solid choice for Penguin Productions.
Penguin is the student-run concert promotion group at YSU. And the April 12 concert represented months of work by the volunteers, lead by Joy Polkabla Byers, assistant director of programs for the campus recreation department.
Penguin Productions was started five years ago, with a goal of staging large-scale entertainment for the campus and greater community. In the process, it gives its two dozen or so students valuable experience in marketing and event planning.
The Goo Goo Dolls concert — which drew 3,200 people, including 1,200 YSU students who got $10 tickets — was one of its most successful efforts.
It was at Covelli and was co-staged by local promoter Eric Ryan Productions. That freed up the students from the labor-intensive job of setting up a stage and chairs in Beeghly Center, the campus gymnasium, as they've had to do in the past.
Kelsey Rupert, marketing director for Covelli Centre, is a former member of Penguin Productions herself.
Planning for the concerts is a year-round process. "After the Goo Goo Dolls, I told them '364 days until the next concert,'" said Byers.
Picking the shows is the first part of the process, and surveys are used to determine who the students want to see. "Student tastes in music are constantly changing," said Olivia Arnold, a graduate student in Health and Human Services and a member of Penguin Productions.
After narrowing down its choices, the group consults with a booking agency to see what acts are available, when they can be routed through Youngstown and how much money they want. Ticket prices are then set and contracts are written up.
"It's an awesome opportunity," said Arnold. "You can't put a value on it. We meet the band and are involved in every step," including writing press releases, designing promotional materials, running contests to generate interest and budgeting.
Staff members at Covelli allowed the student group to shadow them to witness other aspects of staging a concert, like catering, hospitality for the band entourage, the meet-and-greet session for fans, and meeting the band's requests for sound equipment, food, and other needs.
Getting students to the show was another issue.
About 900 students live on campus and hundreds more live in the surrounding neighborhoods, so Penguin ran shuttle buses between YSU and Covelli Centre the night of the show.
The student group has pulled off some other big concerts in recent years, including Third Eye Blind, Danity Kane, Ludacris, and Ryan Cabrera. It also buys up tickets for shows at Covelli Centre and offers them at special rates for students.
Penguin Productions also stages non-music events, including tailgate parties and formal balls.