Unity in the Community attracts city residents to parade, family day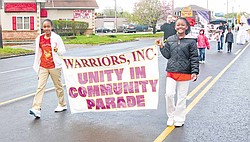 Special to the Vindicator

Photo
CeAnna Curtis, 9, left, and TaNia Simms, 10, lead a unity parade down Market Street on Youngstown's South Side Saturday morning.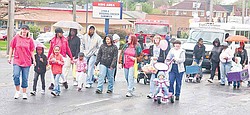 Special to the Vindicator

Photo
Despite a bit of drizzle, people of all ages walked down Market Street in Youngstown on Saturday morning for the Unity in the Community parade.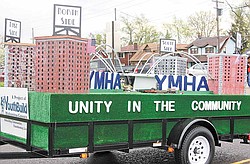 Special to the Vindicator

Photo
A model of the city of Youngstown was created on a float in Saturday's parade to draw attention to the Unity in the Community event.
By Elise McKeown Skolnick
YOUNGSTOWN
The whoop of a police siren and gleeful shouts of "I see it! I see it"! announced the start of Warrior Inc.'s annual Unity in the Community parade.
Gray skies and sprinkles didn't keep people from lining Market Street on Saturday.
They stood under the awnings of buildings or held umbrellas, and just as the parade started, they were rewarded with sunshine.
Kids and adults collected candy, water bottles, beads and information from the various community businesses and organizations in the parade.
"We come here every year, for the past nine years," said Cora Harris of Youngstown. "It's something for the kids to do."
Harris brought her six children. All clutched plastic bags for candy. Two of the kids – Ja-mya and Ja-liya Jackson – turned 9 Saturday. Ja-mya said she liked attending a parade on her birthday. She looked forward to the firetrucks and the noise they make.
Ja-liya said she remembered last year's parade and looked forward to attending again this year.
Their brother, Jaheim, 6, also looked forward to the firetrucks, as well as the ambulances and police cars. He said he'd like to be a firefighter or police officer when he grows up.
Ja-Cora, 7, looked forward to the family-day celebration after the parade.
"I like the bounce-around," she said.
Jason, 10, and Jalieei, 5, waited eagerly for the parade to start. The children's grandmother, Gloria Jackson of Youngstown, attends the community day with them every year.
"It helps the community," she said. "It brings them all together."
Music played in the parking lot of the South Side Annex for the family day celebration. The event included singing, dancing, poetry, games and food. Finance, health and education information was available.
Horizon Science Academy, Youngstown, participated in the celebration.
"We are here to represent our school," said Marines Ramos, Spanish teacher and activities coordinator. "It is a new school in the area, and we are trying to increase awareness" about it, he said.
The school had a table with information and gifts of mugs and pens at the family-day portion of the event. Academy students participated in the parade.
The event brings the community together, Ramos said.
"We do network with other agencies, with other people," she said. "And we get a better understanding of what they do in the area and how they could help our population."