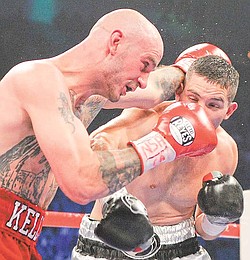 ASSOCIATED PRESS

Photo
Kelly Pavlik, left, exchanges punches with Alfonso Lopez in the third round during a WBO World super bantamweight title bout, Saturday, May 7, 2011, in Las Vegas.
AP

Photo
Kelly Pavlik lands a punch to the body against Alfonso Lopez in the fourth round during a WBO World super bantamweight title bout, Saturday, May 7, 2011, in Las Vegas. Pavlik won by unanimous decision.
By Andy Samuelson
sports@vindy.com
LAS VEGAS
If Kelly Pavlik had one or two more rounds Saturday night inside the MGM Grand, he might have proven the point he had promised all week.
But instead of a signature win in his first fight in more than a year, the Youngstown native had to settle with a narrow victory over previously unbeaten Alfonso Lopez in their 10-round, 171-pound catch weight battle on the undercard of the megabout between Manny Paquiao and Sugar Shane Mosley.
"Obviously there was a lot of ring rust," said Pavlik, who scored a majority decision as judge Adalaide Byrd scored the contest a 95-95 draw — but judges Dick Houck and CJ Ross overruled her with scores of 98-92, and 99-91 respectively.
"I don't know what that one judge saw, but I know I clearly won that fight."
Indeed Pavlik (37-2, 36 KOs) proved that in the final two minutes as he unleashed the most damage he had all night on Lopez with a series of vicious left hooks, which staggered the Cowboy-hat wearing 28-year old from Cut and Shoot, Texas on multiple occasions.
Had the fight went two more rounds like most of the former WBO and WBC middleweight champ's previous title fights, the bigger Pavlik (who jumped up to super middleweight for this bout) might have scored the signature victory he had talked about earlier in the week.
But the narrow decision didn't bother Jack Loew, Pavlik's longtime trainer, especially considering it was his first time in the ring since losing his WBO and WBC middleweight titles to Sergio Martinez in April 2010, as well as Pavlik's first time in the spotlight since his much-publicized stint in rehab for his battle with alcoholism earlier this year.
"We won two times tonight," Loew said. "First just by returning to the ring. And then the second win is we emerged victorious in the fight.
"There was quite a bit of ring rust, but I thought Pavlik did enough and we walked away with the win. That's all you can ask."
But early on things certainly weren't going "The Ghost's" way as the fast-firing cowboy controlled the first few minutes with a flurry of blows.
The combinations of body blows mixed with head shots weren't very damaging, but proved Pavlik was in for a fight.
"It seems like every time Kelly Pavlik starts something, Lopez finishes it," said Showtime announcer and former middleweight champ Antonio Tarver, who scored the first two rounds for Lopez, who entered with a 21-0 mark.
Pavlik bounced back in the next few rounds, and overcame an accidental head butt in the fourth, which opened a small cut on his left cheek.
By the sixth, Pavlik — who connected on 180 of 369 punches compared to Lopez, who landed 168 of 374 — had not only caught him in punch count, but also power punches as he started to let loose with his signature right hand.
In the seventh, Pavlik misfired with a low blow that forced ref Russell Mora to say "Get your punches up. I don't play. I will take a point."
The brief respite reenergized Lopez, who came out of the break with another flurry of combos, a scene he continued in the final rounds.
But in the 10th-round Pavlik and his new power punch, the left hook, proved to be too much.
"I want to put on a show for everyone, but honestly being off for a year and with everything that has happened, I'll take a win however I can get it," Pavlik said earlier in the week.
The Pacquiao-Mosley fight was not completed in time for this edition.
In another undercard bout, former three-division champion Jorge Arce also stopped Wilfredo Vazquez in the 12th round of an action-packed fight, claiming Vazquez's WBO 122-pound belt.
Arce (57-6-2, 44 KOs) and Vazquez engaged in a tremendous bout that ended with Vazquez slumped defenseless against the ropes as Arce unloaded countless punches.
More like this from vindy.com