HAPPY 100TH BIRTHDAY: Moses Watson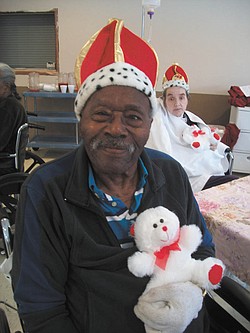 Photo
Address: Campus Health Care Center, 196 Colonial Drive, Youngstown.
Date of birth: May 10, 1911, in Andrews, S.C.
Parents: Alfren and Estelle (Scott) Watson.
Siblings: Seven brothers — Richard, Namon, Amos, Mahlon, Chillin, Harom and Rhuben, all deceased.
Children: Hazel Watson, Richard Watson, Rhonda Watson.
Grandchildren: Doesn't remember now many.
Education: Some high school.
Employment: Has been a fireman, steel worker, peanut factory worker and worked many years on the railroad. He also worked in Civil Service for the U.S. Navy.
Church: Gospel Temple Baptist Church.
Clubs: Mason.
Additional: Watson has been a resident at Campus Health Care for almost three years. He is very active and is the 2011 Valentine's Day King. He says his secrets for longevity are working hard and prayer. His interests include cars, church, keeping well and staying happy.
There will be a birthday celebration for him at the center's dining room at 2 p.m. Tuesday for his family, friends and fellow residents. There will be cake, and Dave Pasco, "the Voice of Elvis," will entertain.