3,200 men bond to display commitment to faith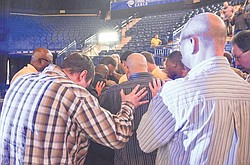 The Vindicator

Photo
A group of men gather to pray at the Covelli Centre in downtown Youngstown during the second annual Men's Rally in the Valley.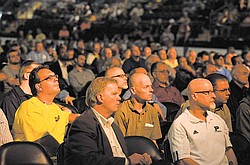 The Vindicator

Photo
Some 3,200 men took part in the second annual Men's Rally in the Valley Saturday at the Covelli Centre, downtown Youngstown.
The Vindicator

Photo
The Rev. Dave Thomas, lead pastor at Victory Christian Centre in Coitsville, spoke at the Christian rally.
PRESENTERS
These seven speakers offered remarks and testimony to more than 3,000 men who attended Saturday's second annual Rally in the Valley:
Bishop George V. Murry of the Catholic Diocese of Youngstown, delivered opening remarks and prayer.
Joe White, president of Kanakuk Kamps, founder of Kids Across America and Cross International, and author of 23 books.
Sherman Smith, a Youngstown native who was drafted by the Seattle Seahawks and became an All-Pro running back with the team.
Bishop Joseph
Garlington, senior pastor of Covenant Church in Pittsburgh and presiding bishop of Reconciliation Ministries.
David Thomas, 33-year head pastor of Victory Christian Center in Coitsville, which is the Valley's largest church.
David Kohout, leads Talk is Cheap, a group that focuses on building confidence, character and hope in young people's lives.
Dr. Don Bartlette, a motivational speaker and author who grew up with speech, physical and other challenges in an abusive environment.
Sources: mensrally.org,
event organizers
By Sean Barron
YOUNGSTOWN
If you compare Dr. Don Bartlette's early years to his life now, the extreme contrast might fill you with deep inspiration and admiration.
On the menu of his childhood were racism, poverty, physical and speech disabilities, an alcoholic and abusive father, relentless bullying and neglect. The main features of Bartlette's adulthood, however, are forgiveness, redemption, a college education and a close relationship with his family and God.
"Today, I no longer think of suicide; today, I no longer hate the people who hurt me," Bartlette said during his presentation at Saturday's Rally in the Valley 2011 gathering at the Covelli Centre.
Bartlette, of North Canton, was one of seven speakers who addressed an estimated 3,200 men of all denominations at the seven-hour program, themed "Let's Meet at the Cross."
The main purpose of the second annual Promise Keepers-style event, which focused on forgiveness and humbleness, was to challenge the men to embrace the humility, sacrifices and victory symbolized by the cross of Jesus Christ, noted Dan Pecchia, event spokesman. Attendees also were encouraged to take their beliefs beyond church walls, Pecchia said.
Bartlette offered a profile of his experiences as a Chippewa Indian growing up in a one-room dwelling in North Dakota, where his alcoholic father left and later became abusive because the younger Bartlette had severe speech and physical limitations.
As a child, Bartlette said he was told he would never speak, walk or learn. He also faced continual rejection by people, schools and several churches in nearby communities, he recalled.
After enrolling in another school, bullies tied Bartlette to a tree and repeatedly struck him before a homeless man freed him, Bartlette said, fighting back tears. Afterward, he went home only to suffer further physical abuse at the hands of his father, who also abused his mother, he said.
A major turning point occurred at age 12, when a white woman "showed me the power of the love of God," he said.
The woman taught Bartlette basic skills such as holding a fork properly, brushing his teeth and reading and writing. Over time, thanks largely to her persistence, guidance and compassion, Bartlette's accomplishments grew to include being the first Indian to graduate as valedictorian of his high-school class, learning about the Bible and developing a relationship with God.
Eventually, Bartlette, a father of eight, went on to work with troubled youngsters, minorities and people with disabilities. He also became a motivational speaker and has appeared on programs such as "The 700 Club."
Major changes also took place within him, he said.
"I forgave my father; I began loving my father," Bartlette concluded.
Also speaking about his father was Sherman Smith, a Mahoning Valley native and former Seattle Seahawks All-Pro running back.
"My father said to me, 'Son, don't buy the lie,'" Smith, formerly of Youngstown, recalled, referring to racism and other obstacles to reaching his goals.
Smith, a 1972 North High School graduate drafted by the Seahawks in 1976, peppered his 30-minute talk with football analogies to illustrate the value of teamwork and reliance on God. Football players in huddles discuss strategies, instructions and challenges while receiving support from one another; likewise, people should gather together to receive the same from God, he explained.
"We're [at the rally] today because we all have the same playbook," Smith said, referring to the Bible.
The former player and a current Seahawks coach added, however, that he feels too many churches aren't aligned with certain biblical teachings. Main problems in such churches include racism, sexual immorality and a high divorce rate, he said.
"We're more concerned about sameness than oneness," Smith added, while urging his audience to be a reflection of Christ's example. "We're more concerned about being politically correct than biblically correct."
Roughly 100 volunteers assisted with the event.
More like this from vindy.com