The Band Perry gains attention with 'modern throwback' sound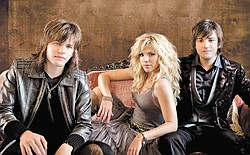 Photo
The Band Perry is, from left, Reid, Kimberly and Neil Perry.
By John Benson
Over the past year, a young, new act emerged out of Nashville with the swagger of Music City veterans. The group is The Band Perry, and the trio of siblings — Kimberly Perry (lead vocals, rhythm guitar, piano), Reid Perry (bass guitar, background vocals) and Neil Perry (mandolin, drums, accordion, background vocals) — is quickly making their presence known.
By the time the Alabama natives released their self-titled debut last October, the band already had scored two top-20 hits, including No. 1 track "If I Die Young" and "Hip to my Heart." The album's third single, "You Lie," is already No. 15, with the threesome's CD reaching platinum. Now the outfit has been named opener for Tim McGraw's "Emotional Traffic Tour," which comes through Youngstown on Friday, with Tim McGraw at Covelli Centre. The question that needs to be answered is whether or not things are moving too fast for The Band Perry?
"We are handling it really good," said Neil, calling from Nashville. "We just got our second bus because at first we were traveling with 12 people on one bus. We all just kind of needed a break from each other."
Added Kimberly, "We're just having the best time. It's just an amazing way to spend a life night after night singing country songs with country-music lovers. The last 12 months have absolutely exceeded everything we even have imagined. The country-music lovers gave us such a warm welcome, and we are so honored and feeling an overwhelming sense of responsibility."
Influenced by The Eagles, Tom Petty and The Rolling Stones, while stylistically falling somewhere between Lady Antebellum and Taylor Swift, The Band Perry — no relation to Katy Perry, thank you — began over a dozen years ago when the band members were just kids and fledging musicians. Eventually, the three joined forces and traveled around the South as a family band honing a sound they call a "modern throwback." Invariably, the lynchpin of the group's appeal is its three-part harmonies, which are evident on the outfit's debut.
Instantly, the music industry took notice, with The Band Perry winning two ACM Awards (Artist of the Year and New Vocal Group of the Year). Someone else paying attention was Tim McGraw, or so it seems.
"I hear we got the gig because his middle daughter, Maggie, actually picked The Band Perry to go out on the road with her dad this year," Kimberly said. "Apparently, she's our new best friend. We're so appreciative to Tim for letting us warm up the stage this summer. We grew up in Mobile, Ala., and one of the things we'd always do when it rained was go mud riding. I remember cranking Tim McGraw music with the windows rolled down going mud riding. That's one of our teen childhood memories. And fast-forward to today where we get to actually sing a song with him on stage. It's really surreal; it's amazing."
In addition to joining McGraw for his single "Can't Be Really Gone," Kimberly hints the group's 30-minute set begins with the fast-paced "Double Heart" and also includes a tip of the hat to pop culture.
Hmmm, perhaps a Katy Perry cover?
"It's not, and I won't reveal what it is," Kimberly said, laughing. "But we play a mash-up with the single 'You Lie.' So come on and check it out."
Look, if a young country band is talking about mash-ups, perhaps the future of Music City is in good hands after all.