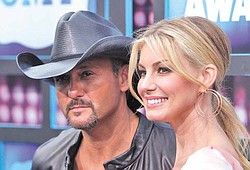 AP

Photo
Country singers Faith Hill and Tim McGraw attend the 2010 CMT Music Awards, in Nashville, Tenn. on Wednesday, June 9, 2010.
IF YOU GO:
What: "Emotional Traffic Tour" featuring Tim McGraw and The Band Perry
When: 7 p.m. Friday
Where: Covelli Centre, 229 E. Front St., Youngstown
Tickets: $50 and $75.50 at the box office
By John Benson
Tim McGraw brings his "Emotional Traffic Tour" to Northeast Ohio for a Friday show at the Covelli Centre. Here are a few facts you may not have known about the country- music star:
The son of former major-league baseball player Tug McGraw, McGraw attended Northeast Louisiana University on a baseball scholarship. He's also a member of Pi Kappa Alpha Fraternity.
Living in Jacksonville, Fla., at the time, McGraw decided to move to Nashville to pursue a career in music the day his idol Keith Whitley died.
McGraw's first splash with Music City success came with his 1994 hit "Indian Outlaw," which was somewhat controversial considering its lyrics.
Not long after, McGraw toured with Faith Hill on the aptly named "Spontaneous Combustion Tour." It was on that tour where the two superstars became romantically involved. They married in 1996.
Over the years, McGraw and Hill have recorded hit duets "It's Your Love," "Let's Make Love" and "Like We Never Loved At All."
McGraw lives in Nashville with Hill and their three daughters. He supposedly lives on the same street as some other country singer named Kenny Chesney.
In addition to his four platinum albums — "Not A Moment Too Soon," "All I Want," "Everywhere" and "Live Like You Were Dying" — McGraw has Grammy Awards for Best Vocal Collaboration (with Faith Hill for "Let's Make Love") and Best Male Vocalist (for "Live Like You Were Dying").
McGraw has starred in movies such as "Flicka," "The Kingdom," "The Blind Side" and "Country Strong."
It's rumored that McGraw can't watch his own movies due to the fact it makes him uncomfortable watching himself act.
A Democrat, McGraw has admitted he may one day run for public office.