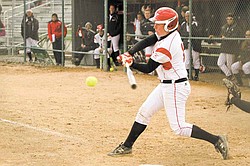 Special to the Vindicator

Photo
Youngstown State junior softball player Jordan Ingalls focuses on the ball during a game this season. She is distant cousins with teammate Sarah Ingalls (Ursuline High) and both share a common bloodline that can be traced back to American author Laura Ingalls Wilder.
Special to the Vindicator

Photo
Sarah Ingalls shortens up her swing to drive a pitch during a YSU softball game. Sarah, who is distantly related to "Little House on the Prairie" author Laura Ingalls Wilder, said the hardest part about a prairie lifestyle would be giving up modern conveniences such as Facebook.
YSU softball players reflect on their famous roots in American history
By Jon Moffett
YOUNGSTOWN
When Jordan Ingalls read "Little House on the Prairie" as a young girl, she couldn't help but be fascinated by the stories of life on the American plains.
As a child growing up in a small town in New York, the Youngstown State junior softball player had no idea she was reading something a little more personal. Say, for example, a family member's diary.
Jordan, and freshman teammate Sarah Ingalls are distant cousins. But more importantly, each had a direct bloodline to famous American author Laura Ingalls Wilder, who penned the "Little House" series in the 1930s.
"My great-great-great- grandfather and Sarah's great-great-great-grandfather were brothers," Jordan said. "And they were cousins with Laura Ingalls' father, Charles."
The present-day Ingalls cousins hadn't met prior to attending YSU. Sarah said she visited the school and noticed Jordan's name on the roster. Moreover, Jordan lives in the same town, Bolivar, that Sarah's father grew up in.
Everything else just kind of clicked.
"My dad doesn't really have much family around anymore, so when we saw that it kind of got our wheels turning," Sarah said. "Then we realized we were related to each other, and to Laura Ingalls Wilder."
Jordan, a physical education major, said she found out about her bloodlines as a teenager. Sarah just found out recently. Both said they think it's pretty interesting to be able to lay claim to a historical figure as a relative.
"I remember I went on a job interview one time and that was one of the first things they asked me," Jordan said. "And when I told them I was, they were so excited."
Sarah, an education major who is also distantly related to artist Andy Warhol on her mother's side, said she is actually more proud of her ancestry to her namesake.
"I mean, I like art a lot, but I feel like Laura Ingalls Wilder is more fun," Sarah said. "I like my last name and people make fun of me and say I live on a little house on the prairie. It's fun."
Both girls said their softball teammates freely mock them — in good fun — and the jokes aren't in short supply.
But for as much as they are similar, the Ingalls pair are as different as they come.
Jordan said her town is a little bit like that of the place her famous relative noted.
"Where I come from, I can definitely relate to the prairie," she said. "It's a town with one stoplight. And I graduated with 60 kids."
Sarah is from McDonald. And while it isn't a one-stoplight town (they have about four), it isn't exactly a bustling metropolis. But while where they come from can be argued as similar, that's about where it stops.
Both were asked what they thought would be the hardest part about life on the prairie. More specifically, what would be the hardest thing to give up in terms of modern conveniences.
Jordan thought for a moment and got kind of sentimental about it.
"I would probably say not having your friends living there with you," she said. "I think the best part of college is that there is always someone around you. If I had my friends, I could live without my phone or my iPod and that kind of stuff."
Sarah was a bit more conventional.
"Oh God, that's a tough one. I would probably have to go with technology. Even electricity," she said. "I hate being in the dark. I hate it. So definitely electricity."
Sarah also admitted she is a bit of a Facebook and Twitter junkie. So giving up her social media would be difficult.
Even if she had a book.