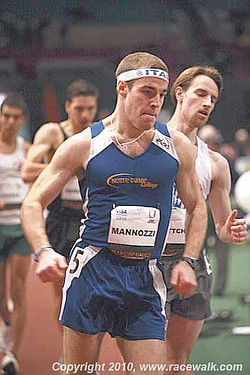 Special to the Vindicator

Photo
Boardman native Michael Mannozzi is working towards a spot in the 2012 U.S. Olympic Trials in race walking.
Boardman's Michael Mannozzi aims for U.S. Trials in race walking
BOARDMAN
If Michael Mannozzi walks as fast as he talks, he's got a future.
Not only does the 2005 Boardman High graduate rattle off his thoughts a mile a minute, but he's making inroads with the rest of his body as a racewalker.
Whatever the fuel for the 25-year-old's energy, Mannozzi has a lot of it as he marches toward an Olympics trial date in the 50k race walk event.
Mannozzi qualified during the Ohio Association 50k race walk championship in Yellow Springs on April 10.
Amazingly, the trail race was Mannozzi's first 50k (31 miles) race walking event.
"That was my goal the whole time," he said of not only winning the event, but qualifying for the 2012 Olympic trials.
His time while running for the Miami Valley TC was 4:41:49.
However, because of his competitive nature, Mannozzi won't stop there; he'll attempt to qualify in the 20k (12.4 miles) distance, too.
"Now, I'm focusing on that," he said. "If I qualify for both, that doubles my chance of going to the Olympics."
He'll take a stab at that distance on May 8 in Dayton.
From usatf.org comes this explanation of race walking: It differs from running in that it requires the competitor to maintain contact with the ground (never have both feet off ground) and straighten the front knee when the foot makes contact with the ground, keeping it straightened until the knee passes under the body. Judges evaluate the technique of race walkers and report fouls which may lead to disqualification. Judging is done by the eye and no outside technology is used in making decisions.
Considering that race walking continues to grow in popularity across all age groups for its fitness and competitive aspects, Mannozzi may have stumbled upon something of benefit to all.
Although technically demanding, race walking is an event contested at all levels of track & field, from youth athletics up to and including the Olympic Games.
Mannozzi, a student at Notre Dame College in South Euclid, has put his education on hold to concentrate on training.
He will, however, resume studies later this summer when he'll do a seven-week internship to complete his last two credits toward a degree.
Before that he's eyeing the USA track and field national championships in Eugene, Ore. in a few months.
"It's the same location as the trials, except a year sooner," he said of the late June date. "I might be getting a glimpse of where the trials will be."
Eugene wouldn't be his last hope, either, because other 20k qualifiers are being held in the fall.
"I'm in good shape," the 5-foot-8 1/2, 157-pound Mannozzi said of being halfway toward his two-pronged goal.
Trials for 50k will be in January 2012 in San Diego, while 20k Olympic trials will be late June 2012 in Eugene.
Mannozzi, the son of Marilyn and Brian McGowan of Boardman, developed rapidly enough to qualify for the Millrose Games in Madison Square Garden on Jan. 28.
He finished fifth out of seven in the 1-mile USA race walk championship, which earned him a USA championship medal at that distance.
"It's a feather in my cap as an athlete," Mannozzi said of placing at the Millrose. "It shows you're legitimate and can compete with the highest competition in the world."
After that, he went to Coconut Creek, Fla. for the USA Pan-American Cup trials, a 20k distance, but came up empty. Yellow Springs followed.
Mannozzi would like to continue to work, but, since training would be time-consuming, he'd need a schedule to accommodate his lengthy workouts.
He thinks having Olympic aspirations would be a boone to an employer.
"It would be great PR for them to have an employee who's trying to benefit the USA."
Mannozzi said he was a very average — but hard-working — athlete in high school, when he played football and wrestled.
The demands of wrestling helped Mannozzi get this far.
"At first, it [a military-type upper body] hindered me in going super-long distances, but as I shed those quick-burst muscles, I became leaner. But the wrestling mentality remained: I don't shy away from tough situations."