Sept. 11 widow: 'I was elated'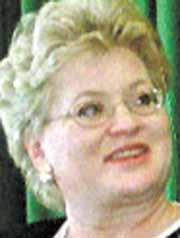 Photo
By Denise Dick
After nearly 10 years, Jackie Lynch can move on with her life.
She learned while watching CNN on Sunday night that Osama bin Laden, the leader of al-Qaida and the mastermind of the Sept. 11, 2011, terrorist attacks, had been killed. "I was elated," said Lynch, who lives in Philadelphia.
Lynch's husband, Terry, died while working in the Pentagon when a plane hijacked by terrorists struck the building. He was a graduate of Ursuline High School. His wife graduated from Austintown Fitch.
Terry was a Youngstown State University graduate, and on the one-year Sept. 11 anniversary, a memorial was dedicated in his honor at YSU.
"Most people, when somebody dies in their family, they have the chance to say goodbye — to hug them to say, 'I love you,'" Lynch. "We didn't get to do that."
Her youngest daughter, who was still asleep when Terry left their Virginia home for work the morning of the attacks, didn't even get to see her father that day.
"It [the family's closure] didn't happen the way we would have wanted it to, but this gives me closure," she said.
John Koborie of Sharon, Pa., felt no relief with the news of bin Laden's death.
He was watching a baseball game Sunday night when his wife came into the room with the news.
"I said, 'So. What's new? It's not going to change anything,'" Koborie said.
His oldest daughter, Rebecca, an executive secretary for insurance company Marsh & McLellan, died while working on the 97th floor of the World Trade Center when the planes struck the buildings.
"It doesn't make me happy that they killed him," Koborie said. "I wanted to see him suffer a little bit like he made those people suffer in all of those situations that he orchestrated."
He believes someone else within al Qaida will step in to bin Laden's leadership role.
Lynch agrees that bin Laden's death doesn't mean the threat of terrorism to the U.S. is over.
"They're probably planning their attacks and what they're going to hit next whether it's troops in Afghanistan or one of our ships. But we got him and that's wonderful."
This week's news followed more happiness for the Lynch family. The day before Easter, Lynch's oldest daughter, Tiffany, had a baby boy — Lynch's first grandchild.
"We call him T.J.," she said. "It's Terence, for my husband, and Jackson is because he would never call me Jackie or Jacqueline. He always called me Jackson."
"You know he was smiling the day that little boy was born," Lynch said.
"I couldn't be any happier today if I wanted to," she said.