Rockets poised to clinch ITCL Tier Two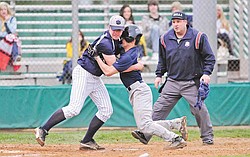 Special to the Vindicator

Photo
Lowellville's Louie Lebron (15) runs into Leetonia pitcher Lance Tullis (7) as he tries to score on a wild throw to home that Tullis misplayed during an Inter Tri-County League Tier Two game Monday at Cene Park in Struthers. The Rockets downed the Bear, 5-0.
Lowellville 5
Leetonia 0
Next: Lowellville at Leetonia, today, 5 p.m.
By Greg Gulas
sports@vindy.com
STRUTHERS
Anthony Alfano didn't feel up to par entering Monday's game with the Leetonia High baseball team, but insisted on taking the mound for Coach Sam Pitzulo's Lowellville squad.
The Bears were left wondering what a healthy Alfano might have looked like.
Alfano scattered five hits, struck out eight and along with reliever Frank McDowell, stranded nine Bears on the base paths as Lowellville defeated Leetonia, 5-0, in Inter Tri-County League Tier Two action at Bob Cene Park.
A win over the Bears today would give the Rockets (9-3, 9-1) the outright league crown, their first in four seasons.
"Anthony [Alfano] was still tight from his last outing, pitching tonight on heart and guts," Pitzulo said. "He's a senior captain and leader of this team who just does it all for us.
"We only had seven hits tonight but found a way to produce runs," Pitzulo said. "When we are hitting we don't rely on small ball but that was not the case as we had to find a way to manufacture some offense today."
Leetonia (5-8, 3-6) threatened in their half of the first inning, loading the bases with two outs, but Alfano was able to slip a third strike past T.J. Skaggs to end the inning.
The Rockets opened a 3-0 advantage in their half of the frame on the strength of singles by Randy Pavlicko and Tony Schialdone, and three throwing errors by the Bears.
Lowellville increased their lead to 4-0 when Louie Lebron and Alfano opened the third inning with back-to-back singles. Lebron scored on a groundout by catcher Mike Petronk.
With the bases full of Bears in their half of the sixth, Pitzulo brought McDowell in to relieve Alfano.
McDowell proceeded to pick off Leetonia's Cody Stokes at second base to end the inning, never throwing a pitch to the plate.
It was the second bases-loaded jam of the game that the Rockets dodged.
"It's a lot easier to pitch when you have a lead to start the game," Alfano said. "I tried to keep them off-balance by throwing my slider and curve a little more than I usually do and it worked.
"Our goal at the beginning of the season was to win the league championship and do well in the playoffs, and tomorrow we have a chance to achieve one of those goals," Alfano said.
Bears coach Jim Green admitted that his team had their chances.
"We had many missed opportunities tonight and it cost us in the end," Green said. "Giving up three runs in the first the way that we did doesn't help your cause.
"It's been the story of our season, holding opponents to a few hits but then struggling at the plate ourselves," Green said.